Welcome to PaulWertico.com!
Recording Reviews:
Wertico Cain & Gray - Out In SPACE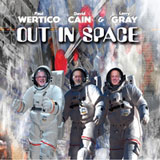 Something Else!
With Out In SPACE, Paul Wertico, a seven-time Grammy winner who rose to fame with the Pat Metheny Group, expands on the successes of last year's collaboration with David Cain.
Intriguingly enough, you could say this success represents addition by subtraction. Whereas 2013's Feast For The Senses featured Wertico and Cain working with a series of collaborative voices, their new project – a completely improvised date recorded live in concert at Evanston Space last August – finds this duo working exclusively with multi-instrumentalist Larry Gray. His ability to fit into their ever-shifting imaginative leaps adds new colors, and a greater focus, to the proceedings. Together, Wertico Cain and Gray sound of a piece – like old friends finishing each other's sentences.
And these are very, very interesting sentences.
"Sounds Born of Silence" begins in a manner befitting its title, as Wertico Cain and Gray take up their instruments in a twilit quietude. Slowly, the rustle of rhythm begins, a contemplative bass line from Gray, other ambient asides. Then Cain, who also plays sax and synths, whispers the project's first lyric – adding a rasping addendum to this growing mystery. "Silence" then slowly coalesces into a visceral moment of longing, with Cain adding a serpentine reed line even as Wertico becomes more active on his drum set, mimicking the rising pulse of passion. They play with space and silence, and not for the first time, allowing the darkness to billow up all around, before the trio bursts out with a torrent of sound and fury. Then, just as quickly as it caught fire, "Sounds Born of Silence" settles back into a remarkable stillness.
"Sonic Continuum" emerges next with a series of scronky keyboard figures, building a celestial bridge toward "Trying to Remember to Forget"– which then starts with a drive by across the edge of universe. Wertico Cain and Gray unleash a veritable explosion of fusion noise, but the track eventually settles back into an active music bed for Cain's latest ruminations in voice and horn. Gray provides a deeply grooved foundation for these excursions, playing with a greasy feel and then effortlessly taking over the spotlight for a contemplative solo turn.
"The Crooked Road" seems to grow directly out of "Sonic Continuum," building on those blurts of synth with an angular rhythm signature from Wertico. Gray concludes things with an appropriately mechanized approach on the bass. "Drunk by Noon (And Then Some)," rather than arriving with the perhaps expected level of boozy lackadaisicalness, instead continues exploring this otherworldly atmosphere – with whirling keyboards, chirping outbursts of bass, and assorted alien-like bleats as an accompaniment. It's only when Gray switches to a swooning cello, toward the song's end, that things seems to become appropriately alcoholic. Even then, Wertico Cain and Gray find a way to shake things up with these odd-handedly improvisational moments in sound.
"Narrow Passageways" arrives not unlike the opening track on Out In SPACE, appearing as if on a distant horizon and then moving ever forward. As the track begins to take on more definition, its strange contours suggest fear – or, at the very least, uncertain melancholy. Then Cain takes up his horn, and the song traces a deeper emotional narrative – one of dreamscape mystery, helped along by the vaguely Middle Eastern lope of Wertico and Gray. "This Place Called Home," propelled this time by Gray's turn on the flute, continues along this deeply alluring path – enveloping the listener in a magical sense of wonder and intrigue.
Wertico's furtive cadence points, at first, to a similar destination for "My Say for the Day," but he eventually ramps up into a thunderously layered performance at the drums. Cain and Gray then combine to create an insectile opening statement on "Condition Unknown," with bass and keys suggesting the long-form math of modern prog, before "Elements Gone By" – the trio's closing track in this ever-entertaining live set – arrives via a final vocal turn from Cain. Layering his own scats over a repeatedly echoing verse, he is eventually joined by Gray and Wertico for what becomes a scorching final excursion into free-form, completely symbiotic creativity.