Welcome to PaulWertico.com!
Recording Reviews:
Paul Wertico Trio - Letter from Rome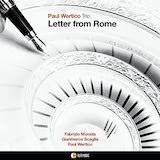 online-jazz.net (Italy)
When there is Paul Wertico in a combo you are almost certain that it is excellent music. And this time too the situation is exactly this: at the head of a trio completed by Fabrizio Mocata on the piano and Gianmarco Scaglia on the double bass, the American drummer does not deny himself and offers an interesting album. On the program nine pieces written in various intersections by the three musicians with the addition of a classic of Italian pop music, Domenico Modugno's "Vecchio Frak", a piece that has already attracted the attention of several jazz players including Fabrizio Bosso and Marco Tamburini ; the trio gives a personal and convincing interpretation: after an introduction of the bass that draws the melodic line, it is Fabrizio Mocata's turn to conceive a solo that revolves around the melody to land, when the drums also enter the field, on a completely improvised terrain, now very far from the original score. And this is a bit like the plot on which the music develops for the whole CD, that is to say the hint to a cantabile line (introduced by the piano or the double bass) and then the three who indulge in often enthralling improvisations that denote, in addition to an obvious understanding (Wertico and Scaglia had already recorded another album, Dynamics in Meditation, Challenge Records 2020) the joy of making music, of playing together. All enhanced by the solos of Paul who confirms himself as one of the best drummers in practice today: listen carefully to the way he treats the cymbals, his real trademark.