Welcome to PaulWertico.com!
Recording Reviews:
Wertico Cain & Gray - Windows Of Time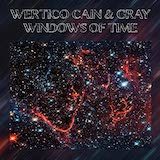 Something Else!
When Paul Wertico, David Cain and Larry Gray convene to make music, you never know what will come out of it because even the master drummer, saxophonist/keyboardist and bassist don't know what will result. Indeed, "Wertico Cain & Gray" has become synonymous (in my mind, at least) with intensely creative improvisation.
For their eighth record Windows of Time, the music of the moment is this time created using a tactic necessitated by lockdown. Instead of improvising in the same spot at the same time, songs were often crafted around Wertico drum improvs that were later augmented by Cain & Gray and in any case, recorded apart. But it's not like you'd know that from hearing these finished recordings, because the music heard on this record isn't the music of apartness but of togetherness.
Beyond that, the greatest distinction of Windows of Time might be a greater adventurism through expanding the sound palette on keyboards. By using sample-loaded keys, Cain is able to virtually play any instrument that's not bass, cello, drums or percussion, and make it sound convincingly like the real thing. "Peaceful Transformation" is led by an expertly fingerpicked acoustic guitar…or is it? Nah, that's Cain giving us a convincing approximation. A virtual violin is prominent on "How Can I Know That Love Is Endless?" and a rockin' guitar and violin vie with Gray's rangy electric bass on "Watching The Tree Dance" as Wertico provides the ever-shifting pulse.
"By Way Of The Dream" is a synth-driven, Jan Hammer-esque groove while "I'll Meet You There" rides on Wertico's swing. Cain (on piano) and Gray react loosely to Wertico's aggression on "Frontbeat Frontiers" until the latter settles into a muscular, rockin' rhythm.
It's Wertico alone on the tour de force "Time Well Served" While "Remembering Oneness" is Gray's electric bass showcase.
"Chasing Illusions" and "Life Reimagined" are free improvs in the more conventional sense with Cain on electric piano, with all three playing on the same mind plane. Gray is fun to key in on, as his range is wide, he's melodic and acts as the connective glue between Wertico and Cain.
Vocals aren't off-limits for WC&G, and Cain can be heard singing — in a voice not too dissimilar to the late John Wetton — on "How Can I Know That Love Is Endless?," "By Way Of The Dream," and "I'll Meet You There" with varying degrees of electronic alterations applied to them. They're also weaved deep into the tapestry of the songs so they feel part of the instrumentation and not some layered-on, forced fit.
Once again, Wertico Cain & Gray make instant music with all the creativity and none of the mess, and they don't even have to be in the same room to do it. Windows of Time is now available via all the usual music outlets.