Welcome to PaulWertico.com!
Recording Reviews:
Paul Wertico | John Helliwell Project - The Bari Session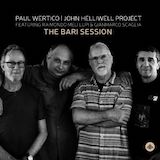 Jazz thing (Germany)
This band was founded by American drummer Paul Wertico, who became known through his time in the Pat Metheny Group in the 1980s, and former Supertramp saxophonist John Helliwell. The two Italians Raimondo Meli Lupi on guitar and Gianmarco Scaglia on bass complete the line-up. The musical palette of the international foursome ranges from modern jazz delicacies such as "Cowboys & Africans", which was strongly inspired by African rhythms, from the elegantly casual "Train Bossa" to a floating, light-footed affair like the opener "Circular Motion". The guitarist often has the opportunity to enter into fiery duels with Helliwell and open his sound towards rock. For Supertramp fans, it should be said that the slightly mysterious "It Seemed That Life Was So Beautiful" was inspired by a line of lyrics from the "Logical Song".
Jazz'halo (Belgium)
Here is a team of (more or less old) friends who meet for a recording in the South of Italy, hence the title of the album "The Bari Session". Paul Wertico, John Helliwell, Raimondo Meli Lupi and Gianmarco Scaglia formed this quartet in 2008 leaving as the only trace of their collaboration a double live album entitled "Live Under Italian Skies", the recording of two concerts in 2008 and 2012. This "Bari Session" is their first studio album recorded in Puglia in 2019.
Bassist Gianmarco Scaglia studied at Berklee College in Boston and also with Dave Holland and Miroslav Vitous. Among his collaborations, there are many Italian musicians such as Paolo Fresu, Fabrizio Bosso, Ettore Fioravanti, Claudio Fasoli (he will form a trio with the latter two)... and Raimondo Meli Lupi with whom he formed a trio in 1994.
Raimondo Meli Lupi is a guitarist in Paul Wertico's quartet, but also involved in the recording and mixing of many projects.
For Pat Metheny fans, Paul Wertico's name will undoubtedly recall the period of the 80s when he was the guitarist's official drummer. He has also accompanied Larry Coryell and more recently Kurt Elling.
Finally, the name of John Helliwell resonates more with the ears of pop/rock lovers since he is one of the founding members of "Supertramp" where his instrumental versatility works wonders.
These four lascars met in Bari to record these seven themes, including one by Paul Wertico's wife, another by Jeff Czech, Wertico's occasional double bassist. The other five compositions are by the members of the quartet. If the line-up is that of a traditional jazz band, the respective influences of the four musicians have their roots in a pop/rock soaked in acoustic jazz and the whole gives a very pleasant album to listen to. "Circular Motion" in the opening is a very beautiful composition by guitarist Meli Lupi.
"Toms For Talia" is a drum solo by Wertico that skillfully follows with Jeff Czech's "Cowboys & Africans". "It Seemed that Life is so Wonderful" are the lyrics of the hit "Supertramp", "The Logical Song", where we fully feel the importance of melody in the choices of the quartet. This is also the case on Barbara Wertico's tender composition "What Would the World Be" and also on "Tuning Song", a collective composition that one could imagine inspired by "Killer Joe".
There is a lot of fun in this music that we listen to without seeing the time pass, we even find ourselves humming melodies that stick very quickly to the ear.
NDR (Germany)
Four Veterans And The Recipe For A Perfect Session
Paul Wertico sat for years with Pat Metheny on the drums, saxophonist John Helliwell played with Supertramp in the big arenas. A joint session in Bari will now be released as an album.
All this stress – you can't get to anything! Four musicians come from three countries on two continents – and apart from a few concerts in Italy and a live album, the Paul Wertico & John Helliwell Project didn't have much to show for it. Because it never fit, you met far too rarely. All participants agreed that this quartet is now truly extraordinary. In the summer of 2019, they finally proved their worth: for a single day, in the studio in Bari. And, admittedly: This debut does not redefine jazz. Actually, this "Bari Session" ploughs through familiar waters between chilled jazz rock, lively post-bop and deeply relaxed blues. The art lies more in the implementation: Four musicians who have become a band despite all the stress. Who take time and peace for their pieces and sound out the themes very carefully. And then stage the whole thing with great love for the sound: This "Bari Session" is one of the best jazz albums of this year. You can play jazz more excitedly, even trendier or more radical. But hardly better – and above all better documented. The "Train Bossa" is recommended for doubters.
Paul Wertico (69) and John Helliwell (76) are no strangers: One was for many years master drummer of the Pat Metheny Group and worked with Larry Coryell and Kurt Elling, who knows others as saxophonist and mocking conferencier of the rock veterans Supertramp the very big arenas. Only Supertramp have retired – for Helliwell a wonderful opportunity to pursue his love of jazz: The Briton came on tour with his own big band, his jazz album "Ever Open Door" made an improvised rhyme on the Supertramp classic "If Everyone was Listening" last year. And also on the "Bari Session" there is a greeting to the old friends: "It Seemed that Life was so Beautiful" is titled after the second line of the "Logical Song".
But when we sing the praises of this "Bari Session", the reference to the comrades-in-arms must not be missing. The bassist Gianmarco Scaglia is a loyal accompanist in the bands of Paul Wertico, the guitarist Raimondo Meli Lupi has left his mark on this project in two respects: His playing is characterized by this quiet, intense recording – and then, as a producer, he also ensured the transparent sound together with the sound engineer Maurizio Biancani. "I am very proud of this work – for me it is a highlight of my career, as a musician as well as a producer", says Meli Lupi. And rightly so, because that's the amazing thing about the "Bari Session": You don't hear the stress and the schedule need. Four veterans find their resting place on a hectic day – and the recipe for a session that is as unspectacular as it is perfect.
Jazz Journal (UK)
Former Pat Metheny drummer and his longstanding saxophonist colleague play an empathetic mix of jazz, blues and prog-rock
Such is the connection between the musicians on The Bari Session that every track was a first take and the whole thing was recorded in one day. Innovative, driving and propelled by the dynamic drumming of Paul Wertico, the album is a mix of jazz, blues and dreamy prog-rock.
"Circular Motion" opens the proceedings with a Pink Floyd-like melody drifting in. Wertico steps up the pace with a solo on "Toms For Talia" and by the time we get to "It Seemed That Life Was So Wonderful", the band is on full throttle with a delicious blues that brings Helliwell's tenor and Melilupi's guitar to the foreground, with that prog-rock vibe still very much in evidence. A standout track.
"Train Bossa" begins with swirling explorations of the main theme by the quartet and then settles to a beautifully controlled bossa that builds and builds. Helliwell opens the beautifully mellow "What Would The World Be" with enquiring lines on tenor, with the melody then being developed by Melilupi, offering yet another example of just how versatile this group can be across material of different moods and shades.
"Tuning Song", a bonus track, closes this fine album with washes of sound that returns the album to the slightly psychedelic mood of the opener. Wertico and Scaglia dance around in the background on drums and bass before the main theme builds to a shimmering finish.
The players have collaborated since 2008, so there is real chemistry in an album full of diversity and superb playing. Hugely enjoyable.
JaZZJAPAN (Japan)