Welcome to PaulWertico.com!
Recording Reviews:
Wertico Cain & Gray - Realization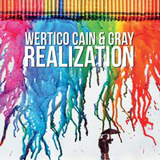 Something Else!
When I first heard "Don't Bother Me About Project Management" with its clinical groove, acoustic bass, and its agile, active rhythms, the last thing that occurred to me was that this perfectly balanced mesh of acoustic and computerized was devised live and suddenly, with no forethought. Or, that it was created as part of a visual presentation. But it was — as was the rest of Realization — by Paul Wertico, David Cain and Larry Gray.
The drummer, keyboardist/saxophonist and bassist/cellist have convened several times over the last few years to make music this way, to which Cain attaches rich, digital visualizations. Realization is the fourth of their spontaneous audio/video presentations, practicing an old method to create art with no fallback but with some new, technological twists.
This go around has a little bit of a twist of its own: for the first time, they are birthing music in a studio (The S.N. Shure Theater and Reelsounds of Chicago). Each of these studio dates make up the front and back end of the album, connected performances that effectively make up two suites.
Realization achieves flight from the undeniable connection among the three. As an eighteen-year member of the Pat Metheny Group, Wertico is not just plenty experienced with handling tricky, unpredictable situations, he thrives in those settings. Gray (Ramsey Lewis, Jack DeJohnette, Dennis DeYoung) is not only virtuosic on electric and acoustic basses, he contributes cello and flute, too. Cain's breadth of artistry spans even wider: in addition to keyboards, synthesizers, an iPad and a red sax, this composer has leveraged technology in other areas, like digital cinema, and he draws heavily from this diverse skill set to bring these projects to a dazzling completion.
The first set whips up a progressive world fusion stew that's Jean Michel Jarre meets King Crimson meets Weather Report. "A Distorted View In A Peaceful Garden" just floats within a space jungle, where underneath Cain's electro noises are Gray's submerged acoustic bass rumblings and Wertico's soft rumbling of toms. Turns out, this mood piece is a soothing prelude to the driving groove of "Today I Have Seen It," featuring Cain's breathless vocal, an art-rock piece that wouldn't be out of place alongside the Talking Heads song. Gray's flute weaves inside and outside of Cain's Amazonian synth swirls on "Being In And Out," returning to the serene mood established on "Peaceful Garden," but later on Cain up a sax and after an intense, free-form release, the trio softly lands into an acoustic, easy jazz swing.
There are some moments that are more overtly spontaneous, such as the jangled "Eavesdropping On A Train," with Gray's cello remarks soon joined by Cain's electro remarks, setting up a clash of the past with the modern, and Wertico is there to push along their impulse with his fleet brushes. "Life In The Modern World" is an impetuous showcase for Cain's high-tech noise collage while "To Beat Or Not To Beat" is a Wertico-only presentation of his boss drumming.
Except for "Management," the band acts more like a jazz band than a fusion band for the Reelsounds session, albeit one with an unrestrained bent. Then again, injection of the modernized world fusion elsewhere is so in keeping with jazz principles, it doesn't disturb the vibe in the least when Cain picks up his fx-altered red sax and the three don their acoustic trio hats, as they do for the last three tracks. They speed up for the final leg of this sequence "We're Outta Here!", putting a vaudevillian/Fred Anderson coda to the whole album.
Going by gut instincts made it easier for Wertico, Cain & Gray to avoid falling into predictable patterns and conventions. The elusive but exciting Realization shows how original and visionary music from original and visionary musicians can be when all the constraints are lifted.
15th Annual Independent Music Awards (2016)
Nomimee - "Best Live Performance Album"
Nomimee - "Best Long Form Video"