Welcome to PaulWertico.com!
Recording Reviews:
Gianmarco Scaglia & Paul Wertico Quartet - Dynamics In Meditation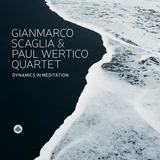 Jazz In Europe
Today marks the release of the new album by the Gianmarco Scaglia/Paul Wertico Quartet titled Dynamics In Meditation (Challenge Records). The collaboration between the Italian bassist Gianmarco Scaglia and drummer Paul Wertico began almost ten years ago and has crossed many different genre boundaries.
After a series of tours and concerts throughout Europe Scaglia decided to implement his music following a different path, expanding his vision and the range of sounds. This turned into an interesting mix with the addition of two harmonic instruments, the guitar of Simone Gubbiotti and the vibraphone of Mirko Pedrotti. The idea behind this was to create a group divided into equal parts where every identity has its own distinctive role.
This collaboration could perhaps be seen as a potential hazard, Wertico, famous for his long stay with the Pat Metheny group but also for being a highly versatile drummer and lover of Free Jazz while Gianmarco Scaglia has traveled though four decades of Jazz with the concept that nobody and nothing must be forced. Guitarist Simone Gubbiotti might be considered a mainstream guitarist however with a marked contemporary sound and approach while Pedrotti comes from a classical background with a passion for odd meters. This all makes for an interesting texture which runs continuously throughout Dynamic In Meditation.
This CD is like a book to read, browsing every page with ever more curiosity. Every song has a logical structure. Some follow the traditional alternance between the melody and solos while some others are an extemporaneous composition (this is the case with "Dynamics In Meditation A, B, C and D").
Other songs reflect Scaglia's interest for bass riffs such as "Black Two" which is the muscular opening track. It's based on an ostinato in 7/4 dedicated to the drums. Here Wertico plays what is in effect a continuous solo perfectly in line with the intention of the composition. It's interesting to listen how Gubbiotti and Pedrotti join Wertico interacting with free intervention and achieving a surprising balance.
"Dave" and "Ornette" are two songs dedicated to two giants of jazz Dave Holland and Ornette Coleman. "Dave" is a modal song with some nice aspects, in fact Scaglia was able to model the structure generating some nice movement. The guitar solo is played on the original harmonic changes while the vibraphone solo is based on a static pedal point. "Ornette" has a complex texture developed on a 3 against 4 poly-rhythm held down by the bass of Scaglia. The melody is played by Pedrotti while the guitar maintains a solid base on the time. The main peculiarity here is represented by the cymbal work of Wertico which is really characteristic.
As eluded to in the title of one of the tracks, this is an album of "Colours" and emotions all wanting to reflect an inner vision. Highly recommending the album let's finish directly with Gianmarco Scaglia words: "I think that music, in most cases, "speaks" much better than the words. This album reflects exactly my personality and my approach to life and to music itself. I am grateful to the musicians, to Paul, Simone and Mirko who shared this vision with me. A special mention to Stefano Amerio (Artesuono) for his precious professionalism.
Windout
Elegantly experimental the new CD of Gianmarco Scaglia & Paul Wertico Quartet absorbs jazzistic everyday life trying to transform any agreement and twilight movement ("Black Two") into avant-garde music with the duality of today's jazz. Expert musician Gianmarco Scaglia creates with Paul Wertico (already with Pat Metheny, Larry Coryell) an interesting work that contains eleven tracks where the jazz / Impro element embraces further modal tones. An island surrounded by a blue sea where precious gems of modern jazz are caught, as happens in "Dave" and "Sol" perfect in their Methinian arrangement in comparison and realization. The archipelago is the metaphor for globalized music that plays with the suspended sound of Carousel and the neo jazz harmonies of Sicily, soft and light. The quartet is completed by the good Mirko Pedrotti - Vibraphone and Simone Gubbiotti - Guitar. Dizzy appearance!