Welcome to PaulWertico.com!
Recording Reviews:
David Cain & Paul Wertico - Feast For The Senses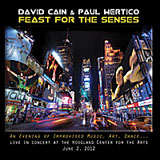 Something Else!
An evening of improvised music becomes a thrilling journey into the imaginations of multi-instrumentalist David Cain and Grammy-awarding winning drummer Paul Wertico. Every time you think you've got this one nailed down, Feast for the Senses – which more than lives up to its title's lofty promises – takes another astonishing turn.
For instance, "If I Could Get One Answer" begins with the sort of coiled, darkly mysterious fusion that fueled Miles Davis' early-1970s recordings. Trumpeter Davis Hoffman, who served as soloist and arranger for 13 years with the Ray Charles Orchestra, is featured over an undulating electric keyboard signature – creating a tension and intrigue familiar to anyone who's delved into that period of Davisiana.
But this is no straight-ahead fusion record.
"If I Could Get One Answer" continues to evolve in competing fashions: There is, at first, the addition of a nostalgic, keyboard-based steel drum effect and then – in an early signal of the way that Cain and Co. are going to push at the edges of convention here – a scalding electric guitar solo from Howard Freitag. There follows a mesmerizing, otherworldly sequence of electronic outbursts via Cain's WX wind controller, and then the first of a series of stream-of-consciousness vocal lines – again from Cain, who wears a chapeau shop's worth of hats on this tune alone.
"Take Away Everything" begins with a scat line from Cain, which sparks a skittering counterpoint from Wertico. Soon, bassist Jim Cloney joins, and the song begins to take shape with a series of soaring effects: An echoing, ever-expanding sax, a keyboard's blurt. Wertico's determined cadence holds it all together, even as the track threatens to slip from its own earthly bonds. Cain's lyric, again on a theme of searching and of loss, finally halts the swirling theme. With only Wertico again playing in tandem, "Take Away Everything" draws to a subdued close that's just as stunning, in its way – like awakening from a particularly turbulent dream to utter silence.
Cain then offers an introspective, deeply mystical comment on love, before Hoffman opens "Shells of Things" on the conch. As with "If I Could Get One Answer," however, Cain's roving imagination quickly emboldens the composition in the most intriguing of ways: Freitag, last heard shredding with a determined fury, offers a series of brooding asides, while Wertico and Hoffmann (now back on the electric piano) begin a fascinating conversation. Even as Cain begins his word poem again, Hoffman begins constructing a simply amazing canvas of textures and feels all around him, running his trumpet through a keyboard to create these hypnotizing sheets of sound. Cain eventually joins him, again on the WX wind controller, for what promises to be a volcanic conclusion.
Instead, Hoffmann returns to the conch shells, as Wertico quiets his kit, and the song vanishes into the ether of "The Twisted Screen," a weirdly transfixing sequence of spacey noises. "The Hoogland Waltz" emerges from the same spooky haze, with Hoffman again poised before an echoing, deep-space trumpet. Wertico's insistent pulse gives the tune an angry grandeur, which then gives way to his polyrhythmic explorations on the showcase tune "Even the Kitchen Sink."
Cain takes up the sax again on "Looking for Your Face," offering an unsettling series of declamations – tuneful, and then outside, swinging and then hectoring – before giving way to the underwater explorations of Freitag's wah-wah pedal and then an absolutely idyllic piano solo. It's a sign of what's to come, as "And Fly Forever" concludes Feast for the Senses with one more surprise: Cain's final thought-provoking monologue is accompanied not by a concluding splash of instrumental bombast, but in this pillowy ambiance.
Order Digital Download - Order DVD