Welcome to PaulWertico.com!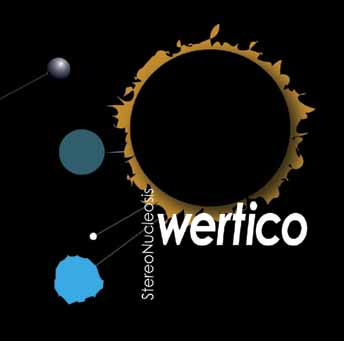 About "StereoNucleosis":
Track listing:
1. Corner Conversation (3:46) (P. Wertico) Wertico Music (BMI)
2. We Needed The Rain (6:42) (P. Wertico & B. Wertico) Wertico Music (BMI) / Ungerleider Music (ASCAP)
3. Somewhere In Between (2:42) (P. Wertico) Wertico Music (BMI)
4. Desert Sky (8:24) (J. Moulder) Moulder Music (BMI)
5. First, Bass (1:41) (E. Hochberg) Hochberg Music (BMI)
6. The Eleventh Hour (9:10) (J. Moulder) Moulder Music (BMI)
7. You Can Get There From Here (2:50) (P. Wertico) Wertico Music (BMI)
8. What Would The World Be (5:57) (B. Wertico) Ungerleider Music (ASCAP)
9. 30 dBs Below Zero (1:25) (P. Wertico) Wertico Music (BMI)
10. Almost Sixteen (5:55) (P. Wertico & B. Wertico) Wertico Music (BMI) / Ungerleider Music (ASCAP)
11. Down And Out On The Farm (1:26) (P. Wertico, J. Moulder & B. Peters) Wertico Music (BMI)
12. Twisted Hoedown (5:21) (J. Moulder) Moulder Music (BMI)
Wertico is:
Paul Wertico - drums, percussion, hand claps
John Moulder - acoustic guitar, electric guitars, guitar synth
Eric Hochberg - acoustic bass, trumpet, vocals
Barbara Wertico - keyboards, hand claps
Brian Peters - fretless bass, violin, electric guitar, electric bass, Ebow, hand claps
Talia Wertico - vocal commentary, hand claps
Rocky - dog barks
Producer: Paul Wertico
Co-Producer: Brian Peters
Executive Producer: Kent Anderson
A&R: Gerey Johnson and Carl Griffin
Recorded and mixed by Brian Peters and Paul Wertico
Recorded and mixed at Rat Howl Recording, Skokie, IL
Mastered by Eddy Schreyer
Mastered at Oasis Mastering, Studio City, CA
All compositions arranged by Paul Wertico
Cover Concept/Graphic Design: Andy Mead
Photography and additional design: Michael Coakes
Recorded & mixed during the Summer and Fall of 2003 using Sonar 2 XL & Sonar 3 Producer and Shure microphones.
A world-class, all-around drummer who put in two decades with the celebrated guitar hero and composer Pat Metheny (resulting in ten memorable recordings and seven Grammy Awards), the remarkably versatile Paul Wertico has also gigged and recorded as a sideman with such a diverse list of artists as guitar great Larry Coryell, jazz singer Kurt Elling, "word jazz" creator Ken Nordine, fusion violinist Jerry Goodman, new age music pioneer Paul Winter, Chicago bebop legend Von Freeman, folk/soul singer Terry Callier, the legendary Eastern European rock band SBB, A440 Music Group labelmate and "voicist" Barbara Sfraga and a whole list of others. But it is ultimately in the context of his own renegade groups that Wertico has revealed the most about his musicality and philosophy of drumming while also pushing the envelope on risk-taking. And on StereoNucleosis, his most audacious and musically diverse outing to date, Wertico pushes the envelope like never before in his illustrious 30-year career as a drummer/musical provocateur.
Recorded entirely at his home studio just outside of Chicago, StereoNucleosis is a sonic journey that travels from dense African-flavored polyrhythms ("You Can Get There From Here") to spacious soundscapes ("Somewhere In Between", "30 dBs Below Zero"), from anthemic and grandiose crescendos reminiscent of Pink Floyd ("Desert Sky") to gentle balladeering (Barbara Wertico's "What Would The World Be"), from a Native American-meets-Delta-blues vibe ("Almost Sixteen") to an avant acoustic fiddle-guitar jam ("Down And Out On The Farm") and a bombastic Zeppelinesque slamfest ("Twisted Hoedown"). Throughout the varied musical landscape, Wertico showcases his penchant for polyrhythmic hookups and flaunts his fascination with found sounds and the notion of juxtaposing odd meters, tones and textures.
Says Wertico, "In the past, some people have said that my band's music made them think of the Tony Williams Lifetime, while other people have said it reminded them of King Crimson, Mahavishnu Orchestra and Jimi Hendrix...all artists that I really love. But on this recording there's also a lot of things that are purely my own vision. And I was able to do this because (A440 President) Kent Anderson gave me the green light to do whatever I wanted to do to produce this record. Obviously, I'm thrilled because that kind of attitude coming from a record company nowadays is pretty much a miracle."
Feeling liberated to fully express himself, Wertico delved into his home studio with a passion, documenting ideas when inspiration struck while staying wide open to in-the-moment experimentation. "While there are some intense drum solos on this recording, my goal was not to try to impress people with my chops on this album," he says. "Instead, I'm really hoping to make listeners 'feel' something with this music and take them on a journey. I'm also very excited because this is the first time in my career that I sense that a recording of mine is going to get a chance to get out there in terms of distribution and marketing and whatnot. At age 51, I finally have a record that's not only truly sonically and musically representative of the way I hear music, but that also has total label support, where the CD actually has a chance of getting off the ground and going somewhere. It's like a dream situation."
Wertico's working trio of John Moulder on guitar and Eric Hochberg on bass is augmented by Paul's wife Barbara Wertico, a classically-trained pianist who provides a number of intriguing keyboard parts here, and the talented 19-year-old recording engineer/multi-instrumentalist wiz kid Brian Peters, who makes key contributions on guitar, bass and violin. With ambitious use of overdubbing in the studio (up to 60 tracks in some pieces), StereoNucleosis is as much a testament to Wertico's ability to sculpt sound in post-production as it is a strong statement of his drumming prowess. As he says, "Although I had a good vision of what the final result would be, there were times where we were just kind of making it up as we went along with all the ideas and influences that all of us bring to bear. And in the end it all worked out as I had imagined it would. The whole approach was very much like zen archery."
Born on January 5, 1953 in Chicago, Illinois, Wertico learned to play the snare drum in grade school though he is primarily self-taught on the drum kit. By age 15, he was already playing professionally with various rock and jazz bands and later his role as a star soloist with the Cary-Grove High School Band led to a music scholarship at Western Illinois University. In the early '70s, he left college and soon became a fixture of the Chicago music scene, playing and recording with a multitude of diverse artists including jazz saxophonist Joe Daley, ethnomusicologist Paul Berliner, blues-rock vocalist/guitarist Ellen McIlwaine, folk singer Terry Callier and the fusion-based Simon & Bard Group. Always active in various realms of creative music, he most notably started two cooperative bands -- Earwax Control with multi-instrumentalist Jeff Czech and keyboardist Gordon James, and Spontaneous Composition with multi-reed player Rich Corpolongo and bassist Doug Lofstrom. In 1983, Wertico joined the Pat Metheny Group; a long and fruitful collaboration continued through 18 years, ten recordings, several gold records and seven Grammy Awards. Besides the PMG recordings, Wertico played on Pat Metheny's Grammy winning solo project Secret Story in 1992 and on the Group's videos More Travels, We Live Here - Live In Japan 1995 and Imaginary Day, as well as on Pat Metheny's Secret Story - LIVE video. Paul also played with Pat on the score and soundtrack for the movie The Falcon And The Snowman, which included the hit song "This Is Not America" featuring David Bowie, and on the score to the movie Twice In A Lifetime. In February 1986, Paul joined Pat Metheny, Charlie Haden and Ernie Watts in Argentina for a week of critically acclaimed engagements, and the summer of 1988 saw a revival of Metheny's Special Quartet with performances in California, Japan, and Hong Kong. During 1993, Paul and his wife, Barbara Unger-Wertico, toured together as members of Pat's Secret Story band, performing in 18 countries around the world. Paul left the PMG in February of 2001.
During his tenure with Metheny, Wertico nurtured several of his own projects that would end up gaining exposure in the '90s, including his first disc as a leader, 1993's The Yin And The Yout (Intuition Records), featuring a legion of guest stars including saxophonists Dave Liebman and Bob Mintzer, bassists Dave Holland and Victor Bailey, pianist Richie Bierach, percussionist Mino Cinelu, harmonica ace and former Flecktone Howard Levy and guitarist Pat Metheny (billed mysteriously as Yu Gno Who). Wertico went on to form and record with the highly democratic Union Trio with pianist Laurence Hobgood and bassist Brian Torff . In 1996, he released a drum duo recording with fellow percussionist Gregg Bendian (Bang! on TrueMedia Jazzworks) that was to lay the groundwork for the 1997 recording The Sign Of 4 featuring Wertico, Bendian, Metheny and Derek Bailey. He also led various other combos, most notably the Paul Wertico Trio, a band that helped redefine fusion and includes guitarist John Moulder and bassist Eric Hochberg. Soon after leaving Metheny, Wertico joined a trio led by another prominent guitarist, Larry Coryell, and also became a member of the legendary Eastern European rock band, SBB, featuring keyboardist, electric bassist and vocalist Józef Skrzek and guitarist Apostolis Anthimos.
Wertico's discography as both leader and sideman is lengthy and impressive. But his crowning achievement to date is the work he's done as drummer-conceptualist-producer on StereoNucleosis. As he says, "There are CDs where you document a specific performance, and then there are CDs where you document a complete artistic vision, and those are two very different concepts. I've done live CDs with Union, SBB, Larry Coryell's trio and with my own trio where we would record the whole thing in three hours, because we were basically documenting a performance. But StereoNucleosis was not about a live performance, it was about the final product being something to give to the world as my personal statement."
And a bold statement it is. In straddling many aesthetics as forcefully as it does, StereoNucleosis is bound to shake up complacent radio programmers and bored listeners...and maybe make them really feel something again. - Bill Milkowski
See Reviews - To Order "StereoNucleosis"