Welcome to PaulWertico.com!
Recording Reviews:
WERTICO - StereoNucleosis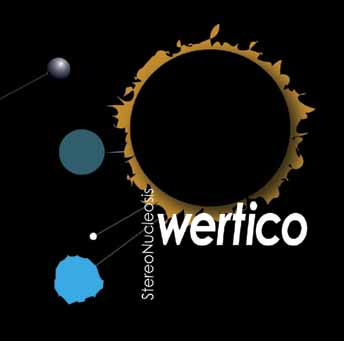 DRUM!
Music: Wertico is taking you someplace new. The ex-Metheny sideman is on a sonic travelogue into a parallel universe where blues, country, hard rock, and jazz fuse (ah! stereonucleosis) in a more exploratory way than they can on planet Earth.
Drumming: The journey is fueled by Wertico's thirst for polyrhythms and hunger for adventure. He's not just playing the music; he's base-jumping into it. The intro track, "Corner Conversation" is a scary percussion-only mix of chimy gongs, claps, and drums that foretells the psychic distance the album will traverse. "You Can Get There From Here" is a pounding bullet train of a drum track overlaid with Twilight Zone-percussion. You hope for more when it abruptly ends. Most of the recording holds up to that promise and Wertico excels at creating a massive drum sound while remaining soulful and dynamic.
Verdict: Quirky beautiful, but with some radio-friendly tunes. Could be the Wertico breakthrough.
Chicago Tribune
A brilliant release - Wertico shows a thrilling disregard for stylistic boundaries - Anyone who has been listening to jazz during the past 25 years already knows that Chicagoan Paul Wertico ranks among the most creative artists to hold a pair of sticks. But no one -- not even fans of his radiant, life-affirming CD Don't Be Scared Anymore (of 2000) -- could have been fully ready for his galvanic new release, StereoNucleosis (on the A440 label). If Don't Be Scared Anymore was a philosophical statement expressing Wertico's ebullience and optimism as man and musician, StereoNucleosis is nothing less than a riveting summation of Wertico's audaciously sweeping view of the percussionist's art. Strange sonic effects, sweetly shimmering brush strokes, hard-driving funk beats, other-worldly musings on acoustic and synthesized instrumentation -- it's all packed into one of the most intelligent, creative and alluring percussion recordings of the past decade. Not that Wertico simply bashes relentlessly on his drums throughout. On the contrary, his freewheeling ideas on sound, texture and rhythm inspire comparably provocative work from the viscerally exciting guitarist John Moulder and the versatile bassist-trumpeter Eric Hochberg (both longtime Wertico collaborators). Yet these players, and others, don't so much assist Wertico as indelibly merge their sound with his. Together, Wertico and friends -- including multi-instrumentalist Brian Peters and keyboardist Barbara Wertico (the drummer's wife) -- unfurl an unmistakably communal music that nonetheless places Wertico at its heart. From the lyrical chimes and pulsing backbeats that drive the first track, "Corner Conversation," to the haunting reverb effects and exotically bent pitches of the aptly named "Somewhere In Between," this is a recording that takes listeners into uncharted aural territory. By dipping into flamenco-influenced scales and rhythms on "First, Bass," electric blues vernacular on "The Eleventh Hour" and abstract eruptions of pitch, color and noise (including the occasional barking dog) on "Down And Out On The Farm," the Wertico unit shows a thrilling disregard for stylistic boundaries. In fact, purists of jazz, pop, blues, rock or techno will not draw comfort from StereoNucleosis, for the recording draws liberally from all of these genres, and others. In lesser hands, this almost-anything-goes approach to the art of improvisation might seem chaotic and unfocused. Wertico and the band, however, make it cohere through the seamlessness of the ensemble playing, the distinct musical vocabulary of each track and, above all, the range and vigor of Wertico's percussion. Unleashed from Pat Metheny's band, in which Wertico played for many years, the drummer finally has given full voice to his art. It takes decades to achieve this level of virtuosity and vision, and with StereoNucleosis, Wertico reaffirms his position among the most restlessly inventive drummers working today.
Modern Drummer
A Grammy-winning Pat Metheny Group alumni and a master of drumming insanity, on StereoNucleosis Paul Wertico journeys through a curiously diverse instrumental collection that blurs the lines between happy, organic world music and dark King Crimson-esque adventurism. At times recalling the fragmented vignettes of the Bozzio/Mastelotto project, here Wertico uses a cornucopia of layered percussion to sculpture the well-recorded, earthy material. On the guitar-based pieces, Wertico's powerful, spirited grooves are mostly rock/funk-based. Musically (and drumistically) radical, artistic, and unpredictable stuff.
AllAboutJazz.com
First came the nucleus. Then came the overdubs, sixty times over in some cases. Then came the music, which in the final analysis was well worth the time and the intent. Paul Wertico has created discreet music that goes a long way in satisfaction, and it's all in stereo too. If one may get away with a quibble, "You Can Get There From Here" doesn't quite do so with the multiple rhythms nestling too close together to be distinct. That said and done, it's time to tootle on. Wertico has played with several musicians, including yup, Pat Metheny, but also Von Freeman, Larry Coryell, Jerry Goodman and Kurt Elling, all good for varied experience. He has led groups, bringing to them his own musical vision. With all this in the mix, voila! ...the ingredients for another musical travelogue. Looking for some "Corner Conversation"? Wertico beckons on drums and percussion, setting up a tantalizing rhythm that explodes in overdubs, but this is fine as the bass thunders, the percussion kicks out the jams and sways provocatively. Whew! The heat is transported to "We Needed The Rain," where the musical landscape is widened to bring in John Moulder, who uses the guitar synth to pour out the bubbly notes and the electric guitar to take extended melodic lines and bend them. There ain't on country music on "Twisted Hoedown"; perhaps that's why it's twisted. Instead, this is gut rock. The bass thunder of Brian Peters, the pyrotechnics and feedback of Moulder and a whole caboodle of trenchant drumming recall the halcyon days of heavy metal. But country music does come "Down And Out On The Farm" with handclaps to boot, even if it is for all of 86 seconds! The band can get quiet too. "What Would The World Be" is a resplendent ballad, an attractive calm amidst the tempest. Wertico sure does cook on this one!
JazzReview.com
Though most of us likely know of drummer Paul Wertico from his 18 years and 7 Grammys with the Pat Metheny Group, what many may not know is that Wertico's also got his own group with whom he's been performing and recording for years. This is where he is most himself: eclectic, powerful, stylistically fearless and original. StereoNucleosis, Wertico's latest release on A440 allows the entire ensemble to shine on collaborative originals which run from West African solo drumming rainforest action to vintage fusion and rock a la Mahavishnu, Crimson, Floyd, Zepplin; all influences that have been a part of him since growing up in 60's Chicago. Though with Metheny's projects he's had the chance to work with everyone from Charlie Haden, Ernie Watts, Gil Goldstein, Derek Bailey and David Bowie and his own The Yin and the Yout was populated with legends Dave Holland, Dave Liebman, Richie Bierach, Vic Bailey and Metheny himself, Wertico sees this release as a true personal statement. And it really does come across as that. Fans of Metheny, Crimson, McLaughlin, Scofield, MMW and Charlie Hunter should all enjoy StereoNucleosis.
LA Weekly
One might wish that Wertico would step out more; his recent records, such as 2000's Don't Be Scared Anymore and the new StereoNucleosis, are stunning examples of the electronic, rhythmic and intellectual directions jazz could be going.
All Music Guide
For starters, drumming maestro Paul Wertico's StereoNucleosis, his fifth solo outing, is not a jazz record. OK, now that the jazz fascists...er, purists, have left the room, we can get on with talking about this patchwork quilt of sonic delights. Wertico has followed some interesting paths in his 30-plus-year career, from working with Pat Metheny and Larry Coryell to Kurt Elling, Terry Callier, and Ken Nordine. But nothing in his recorded past could have prepared listeners for this album. All the stops and boundaries blur before disappearing into the clear light of musical emptiness. And in that space where a whole slew of artificial categories existed is the abundance of music as a universe unto itself. Wertico's collaborators on this excursion into the heart of sonic inquiry are his partner, the composer and keyboardist Barbara Wertico, double bassist and trumpeter Eric Hochberg, guitarist John Moulder, and electric bassist, guitarist, and violinist Brian Peters. The album's opener, a solo percussion piece called "Corner Conversation," whispers into existence. Wertico dances on an array of small percussion instruments and drums for a little over a minute before huge-sounding choirs of hand drums and tom toms rain down like blessed-out thunder, offering that exuberance and abundance do indeed have a sound. And as it ends, a few small rhythms usher in the sheer magnificence of "We Needed The Rain," where fat bass lines, electric guitars, trumpet, keyboard loops, and Wertico's kit entwine in a swirling, shimmering procession of near transcendent beauty. Some lazy fool will be tempted to call this groove jazz, and if it is, so be it — bring on the grooves. This is the music Carlos Santana strives for at his best, and it is reminiscent in feeling of "Song of the Wind" from Caravanserai. John Moulder's guitar solo literally sky dances in the mix. "Desert Sky" gets to the same place, but it's more aggressive. Drums and keys shimmer before splitting open the mix, and once again the guitars scream with a very intense and focused lyricism. There are more free-form moments on the record as well, with the taut elliptical improvisation in "Somewhere In Between," where all instruments function as percussion, whispering and tentatively moving around in a nocturnal mix. "The Eleventh Hour" begins with a cacophony of feedback and dissonance before becoming a bluesy, funk groove. And in "You Can Get There From Here," African percussion cadences thrust into the open space of the mix to be colored by feedback and angular chords before giving way to the quiet, acoustic six-string opening of "What Would The World Be," full of ethereal progressions and languid tempos as it walks slowly into the warmth and intimacy of converging harmonics. One of the most compelling things on the set is "Almost Sixteen," a shambling blues tune done Delta drone style led by Hochberg's guttural bass and vocal moans striated by a terse yet infectious melody line from guitars and minimal keyboards and Wertico's trademark double-time shuffle. In sum, the true measure of StereoNucleosis' wealth and importance is that there is nothing remotely like it in your record store — and hopefully it is in your record store. Wertico and his players have done something wonderful and rare: they've actually created something not only different, but also truly new. In the words of Henry James, "the thing that cannot be repeated" is the true definition of art. StereoNucleosis certainly qualifies.
Midwest Record Recap
Being an old fan of Simon & Bard, it's safe to say I grew up hearing Wertico from the git and have enjoyed following his career since he's a local boy and "one of us". The only departure Wertico makes from his past here is that he is showing more of a band and group leader stance than super soloist playing with pals. His side projects always gave him room to demonstrate that he wanted to outside his work with Pat Metheny, but here, Wertico makes a real, fully formed musical statement that hangs together with a precision he's avoiding putting forth in the past. With skillful genre splicing and mode shifting, Wertico reinvents the language of progressive jazz for a new generation on this outing. The kind of set that dawns a new day.
LA Jazz Scene
Contemporary jazz gets a facelift, as percussionist Paul Wertico drives with a powerful beat. While his rhythmic foundation is timeless, the mystique supplied by his small band creeps forward into the next century. Eric Hochberg's tightly muted trumpet, John Moulder's fiery guitar, Brian Peters' thunderous bass, and Barbara Wertico's surround-sound keyboard wrap the session up in eerie, special-effects fantasy. As his album title implies, Paul Wertico makes a bold statement with his band: a statement about the future, about science, about technology. "Space, the final frontier" is how we normally view this concept. Ever since the Tornado's early '60s hit "Telstar," electronic sounds have been drawing upon the "final frontier" side of music. Wertico balances pop, rock, blues, and a little contemporary jazz on this latest album. "The Eleventh Hour," featuring Moulder's blazing guitar in a passionate blues interpretation, stands out as the album's high point. The leader exerts his versatile drum set experiences on this tune and throughout the session. As a clinician, he's hard to beat. Crisp rolls, a variety of suitable textures, and a great beat keep things buttoned up tight. With Hochberg on upright bass, "Almost Sixteen" blends the blues with an older, traditional chant. With Peters on fiddle, "Down And Out On The Farm" blends bluegrass with a cohesive, family gathering in celebration. "What Would The World Be," a lovely ballad that slows it all down with acoustic timbres, rounds out the program, which will appeal to a broad audience.
All About Jazz
Grammy award winning drummer and former sideman with Pat Metheny, Paul Wertico offers a wide array of musical styles on this exceptional sonic journey. Wertico uses the full spectrum to showcase his penchant for polyrhythms and the notion of juxtaposing odd meters, tones and textures. This set rocks! Wertico opens with "Corner Conversation," a full on jam featuring his amazing drumming technique and ability to shake you out of your complacency. "We Needed The Rain" features the hypnotic trance back beat heard on "Chris" from the soundtrack The Falcon And The Snowman and the electrifying chops of guitarist John Moulder. Several highlights make this one a keeper including the tremendous solo on "You Can Get There From Here." Please note, this is not, by any stretch of the imagination, a straight-ahead jazz recording but one that is filled with a fusion of brilliant improvisations, delicate ballads, sonorous rhythms and beats. Entertaining, electrifying and experimental at best.
AbstractLogix.com
Brand New release from this incredible drummer from Chicago who have commanded the kit with Pat Metheny, Larry Coryell and many more. This record is definitely his best to date, which crosses genres and boundaries. Experimental drumming with surreal mix of drums and percussion.
Jazziz
Longtime Pat Metheny drummer Paul Wertico does some serious envelope pushing on his provocative StereoNucleosis (A440). Recorded entirely at his home outside of Chicago, this sonic journey includes dense African-flavored polyrhythms ("You Can Get There From Here") to spacious soundscapes ("Somewhere In Between," "30 dBs Below Zero"), as well as a Native American-meets-Delta-blues vibe ("Almost Sixteen") and a bombastic Zeppelinesque slamfest ("Twisted Hoedown"). Throughout the varied musical landscape, Wertico showcases his fascination with found sounds and the notion of juxtaposing odd meters, tones, and textures. According to Wertico, "Some people have said it sounds like Tony Williams' Lifetime; some people have said it reminded them of King Crimson or Hendrix...all artists that I really love. But there's also some things here that are purely my own vision." Wertico left Metheny's band in February of 2001. Feeling a new sense of liberation, the drummer began working with a passion in his home studio. He documented ideas whenever inspiration struck. StereoNucleosis features his working trio of John Moulder on guitar and Eric Hochberg on bass, and Paul's wife, Barbara, a classically trained pianist, provides a number of intriguing keyboard parts. And the talented 19-year old engineer and multi-instrumentalist-wiz kid Brian Peters makes key contributions on guitar, bass, violin, and loops. "I'm not trying to impress people with my chops on this album," says Wertico. "I'm just trying to make them feel something with this music. And I'm excited because this is the first time in my career that I feel like a record is going to get a chance to get out there in terms of distribution and marketing and whatnot. At 51, I feel like I finally got a record - not only sonically and musically, but support-wise - where it actually has a chance of getting off the ground and flying somewhere. It's like my dream record." With ambitious use of studio overdubbing (60 tracks, in some cases), StereoNucleosis is as much a testament to Wertico's ability to sculpt sound in post-production as it is a strong statement of his drumming prowess. "We were just kind of making it up as we went along," he says, "with all the influences that all of us bring to bear. And in the end, it kind of magically worked out. The whole thing was like zen archery...more like zen luck.
Billboard.com
Former drummer with the Pat Metheny Group, Paul Wertico is an accomplished jazz player who also has extensive experience as a producer and music teacher. His latest solo effort, StereoNucleosis, includes the standout cut "Twisted Hoedown.
Chicagobusiness.com
Renowned jazz drummer Paul Wertico, known for pushing the envelope, celebrates the release of the Paul Wertico Trio's CD, StereoNucleosis.
Las Vegas Weekly
Former member of the Pat Metheny Group and a kick-ass drummer and percussionist, Paul Wertico's label let him cut loose on this album and it shows, with some tracks having upward of 60 overdubs. The creative freedom, and the density, sometimes gets a little too trippy, but overall it works.
DownBeat
Drummer Paul Wertico's latest effort is a family affair, featuring his wife Barbara performing on the keys, a vocal commentary by his daughter Talia and the (barking) family dog, Rocky. But it's not just about sugar and spice and everything nice. For example, on the opening "Corner Conversation," Wertico launches the proceedings with a thunderous percussion groove, shaded with dreamy synth swashes. Notable facets of this release are the catchy melodies and layered arrangements, whether the band is engaging in pounding, jazz-funk-rock motifs, or worldbeat interludes amid other stylizations. Sure, guitarist John Moulder puts the pedal to the metal on several occasions, yet various segments of these works are embellished by sound-shaping activities and memorable phrasings. The ensemble achieves an even-tempered medium of sorts, witnessed by Wertico's all-encompassing drum techniques, including a sweeping solo on the bluesy "The Eleventh Hour." The ensemble's versatile slant continues on "Almost Sixteen," where bassist/trumpeter Eric Hochberg's low-register vocal rides atop an ominous rock-based vibe. Perhaps the title of this composition alludes to a youngster entering that somewhat forbidden age, as the band duly stirs up imagery of apprehension and an element of the unknown. Wertico's ruminations are partly rooted within dappled tonalities and lucid imagery via these sustainable concepts that hold up rather well on repeated spins. - Four Stars!
Downbeat.com
Notable facets of this release are the catchy melodies and layered arrangements, whether the band is engaging in pounding, jazz-funk-rock motifs, or worldbeat interludes amid other stylizations. The ensemble achieves an even-tempered medium of sorts, witnessed by Wertico's all-encompassing drum techniques. - Four Stars!
JazzTimes
Wertico's StereoNucleosis is an entirely different beast. Meticulously produced, this follow-up to 2000's Don't Be Scared Anymore again features Wertico with guitarist John Moulder and bassist Eric Hochberg. But there are more hands on deck this time. Barbara Wertico, the drummer's wife, overlays keyboards and gets cowriting credit on two tunes, not to mention her own acoustic ballad, "What Would the World Be." Daughter Talia-a music critic in the making?-razzes the band at the close of the tossed-off country snippet "Down and Out on the Farm." Even Rocky, the family pet, gets a bark in. Recording engineer Brian Peters, all of 19 years old, coproduced the effort with Wertico, and his creative spirit seems to loom large over the proceedings (he interjects violin, guitar, fretless bass and more). The tracks, ranging from percussion-based sound sculptures to gritty jazz-rock (with a strong emphasis on the rock), have their banal moments but add up to a refreshing, uncategorizable whole-right down to the maddening hidden track.
JazzReview.com
A world-class, all-around drummer who put in two decades with the celebrated guitar hero Pat Metheny, the versatile Paul Wertico has logged and recorded many frequent player miles with a number of other artists, including Larry Coryell, Kurt Elling, Jerry Goodman and Paul Winter. Technically, Wertico's new release, Stereonucleosis, is as good as it gets. The album is a sonic journey that travels from dense, African-flavored polyrhythms ("You Can Get There from Here") to spacious soundscapes ("Somewhere in Between"). Throughout the varied musical landscape, Wertico showcases his penchant for polyrhythmic hookups and flaunts his fascination with found sounds and the notion of juxtaposing odd meters, tones and textures. "In the past, some people have said that my band's music made them think of the Tony Williams Lifetime, while other people have said it reminded them of King Crimson, Mahavishnu Orchestra and Jimi Hendrix," Wertico says in a press release. "But on this recording, there are also many things that are purely my own vision. And I was able to do it because (A440 president) Kent Anderson gave me the green light to do whatever I wanted to do to produce this record. "Obviously, I'm thrilled because that kind of attitude coming from a record company nowadays is pretty much a miracle." Indeed, it is. Which is why so much mainstream music is similar, with artists not being given room for creativity. On Stereonucleosis, Wertico is creative and then some. Feeling liberated to fully express himself, Wertico delved into his music with a passion, documenting ideas when inspiration struck, while staying wide open to in-the-moment experimentation. "While there are some intense drum solos on this recording, my goal was not to try to impress people with my chops on this album," Wertico says. "Instead, I'm really hoping to make listeners 'feel' something with this music and take them on a journey." Wertico's working trio of John Moulder on guitar and Eric Hochberg on bass is augmented by Paul's wife, Barbara Wertico, a classically trained pianist who provides a number of intriguing keyboard parts here, and the talented 19-year-old recording engineer/multi-instrumentalist Brian Peters, who makes key contributions on guitar, bass and violin. Among the highlights of Stereonucleosis are the percussive opener, "Corner Conversation," the lively "We Needed the Rain," the hauntingly cool "Desert Sky," the intimate "What Would the World Be" and the funky groove "Almost Sixteen," which features a stylish vocal chant by Hochberg. "There are CDs where you document a specific performance, and then there are CDs where you document a complete artistic vision, and these are two very different concepts," Wertico says. "I've done live CDs with Union, SBB, Larry Coryell's trio and with my own trio, where we would record the whole thing in three hours because we were documenting a performance. "But Stereonucleosis was not about a live performance; it was about the final product being something to give to the world as my personal statement." And what a statement it is. With the hope of getting airplay, Stereonucleosis is bound to shake up complacent radio programmers and bored listeners - giving both music that makes them feel something again.
Jazz Institute of Chicago
StereoNucleosis is not credited to the Paul Wertico Trio, but there is no doubt that this is the follow-up to Don't Be Scared Anymore that we have been waiting for. Guitarist John Moulder and bassist Eric Hochberg are back with the addition of multi-instrumentalist Brian Peters and wife Barbara on keyboards. This band has been a vehicle to further the forays made by significant fusion bands and progressive rock bands that Wertico still admires. The drummer/composer also brings up to the fore some additional elements that surely result from his listening to musics from all around the world - thus, the Chinese or tribal percussion prominently featured on a couple of tracks. As with its predecessor, StereoNucleosis does not fall into one single groove - it is to Wertico's credit not to repeat himself. Filled with atmosphere or burning energy, the material - everyone contributed to a program of originals - covers a lot of ground. Paul Wertico's long association with Pat Metheny and Larry Coryell has allowed him to develop a kin relationship with guitar players, which probably explains the success of his partnership with one of Chicago's most incendiary guitarists, John Moulder, who makes some significant contributions to this session. Possibly not as challenging as Don't Be Scared Anymore, this new opus offers in comparison more textures and colors. It also brings out a lighter side of the drummer's personality. Recorded at his home studio, all the parties involved seem to be having a great time making StereoNucleosis the only infectious disease you might want to catch.
CityPages.com
Wertico's StereoNucleosis, easily the finest jazz-rock outing of 2004.
Drum.com
Many would say this is Paul Wertico's best work, maybe because his wife Barbara, an accomplished composer and keyboardist in her own right, joins Paul along with his mates Eric Hochberg on bass and trumpet, John Moulder on the guitar, and Brian Peters on some electric bass, guitar, and violin. Paul even has his ten year old daughter, Talia, contributing on this record. This project, a true family affair, I believe gave Paul the support to take the required risks to unleash what many consider a slice of musical genius. Paul's drumming seems to have no style limitations; it's all there for you to take in whatever you're stylistic mainstay happens to be; Jazz, Rock or Fusion. Check out an great African beat with an industrial edge on "Corner Conversation", and "The Eleventh Hour", where you'll hear shades of Elvin Jones as well as John Moulder's intense guitar work on this particular track. Also of note, "We Needed the Rain", is a rhythmic force that reminds me of the period when Paul was behind the kit for the Pat Metheny Group.
Chúng tôi mong muốn mang lại cho các bạn những trải nghiệm cá cược tuyệt vời nhất, vì vậy, ONBET đã thiết kế và phát triển nhiều chương trình khuyến mãi hấp dẫn. Hiện nay, onbet đang cung cấp một số khuyến mãi vô cùng hấp dẫn