Welcome to PaulWertico.com!
Paul Wertico Extended Biography:
Born in Chicago, Illinois on January 5, 1953, Paul Wertico started playing drums at the age of 12 and became a professional by the age of 15. Self-taught on the drumset, he developed his unique musical concept by listening not only to jazz and rock, but to a variety of musical styles from all over the world. He then applied elements of these styles to his drumming in a melodic, as well as a rhythmic fashion. His playing has been compared to that of "an Impressionist painter", while he has also been described as "an inspired madman" and "a restless innovator". Paul was voted "Fusion Drummer Of The Year" in the 1997 DRUM! magazine Readers Poll, and placed in the top five in the "Electric Jazz" category of Modern Drummer magazine's 1997 & 1998 Readers Polls. In 2004, Paul was named a "Chicagoan of the Year" by the Chicago Tribune.
In 1983, Paul became a member of the Pat Metheny Group. During that time he won seven Grammy Awards with the PMG: three for Best Jazz Fusion Performance: First Circle - 1984, Still Life (Talking) - 1987, and Letter From Home - 1989; three for Best Contemporary Jazz Performance: The Road To You - 1993, We Live Here - 1995, and Imaginary Day - 1998; one for Best Rock Instrumental Performance: "Roots Of Coincidence" - 1998; as well as a Grammy nomination for Best Pop Instrumental Performance: "Follow Me" - 1998. He also played on Pat Metheny's Grammy winning solo project: Secret Story - 1992. Paul played on the Group's videos More Travels and We Live Here - Live In Japan 1995, and on Pat Metheny's Secret Story - LIVE video. He also played with Pat on the score and soundtrack for the movie The Falcon And The Snowman, which included the hit song "This Is Not America" featuring David Bowie; and on the score to the movie Twice In A Lifetime. In February 1986, Paul joined Pat Metheny, Charlie Haden, and Ernie Watts in Argentina for a week of critically acclaimed engagements, and the summer of 1988 saw a revival of the 'Special Quartet' with performances in California, Japan, and Hong Kong. During 1993, Paul and his wife, Barbara Unger-Wertico, toured together as members of Pat's Secret Story band, performing in 18 countries around the world. In October 1997, the Pat Metheny Group released their latest recording entitled Imaginary Day. Paul left the PMG in February of 2001.
When not on the road, Paul resides in the Chicagoland area where he is engaged in many creative activities:
His involvement with "Word Jazz" creator Ken Nordine includes playing drums and percussion and doing drum programming for a number of Ken's radio shows for National Public Radio and for five of Nordine's recordings: Triple Talk, Grandson Of Word Jazz, Ear Package, Upper Limbo, and Transparent Mask.
He co-led and recorded an album with the critically acclaimed avant-garde trio Spontaneous Composition, and continues to co-lead the enigmatic group Earwax Control, which won NARAS's "ORA" (Outrageous Recording Award) in 1990 for the song "Dogshit Blues". He also produced 'Earwax Control's' second release, a CD entitled 2 LIVE for the Naim Audio label.
He co-leads the free spirited band 'Trio New'; and leads five other highly adventurous and unique groups: Paul Wertico's Strapagander, Paul Wertico's Quintet Thing, the Paul Wertico Group, Paul Wertico's Wicked Sics, and the Paul Wertico Trio, which released a live CD entitled Live In Warsaw! in 1998 and a studio CD entitled Don't Be Scared Anymore.
He keeps a busy schedule as a freelance artist (playing with both local and internationally known jazz artists); a studio musician (playing drums and percussion on countless jingles); a session player (playing drums and percussion on scores of record dates).
He is involved in playing on and/or producing a number of new albums of Chicagoland artists, including guitarist John Moulder's CDs Awakening and Through The Open Door; trumpet player Bobby Lewis' five CDs: Inside This Song, Passion Flower, Here I Go Again, Flugel Gourmet and Just Havin' Some Fun; and vocalist Kurt Elling's four CDs: Close Your Eyes (which received a Grammy nomination for Best Vocal Jazz Performance - 1995), The Messenger (which received a Grammy nomination for Best Vocal Jazz Performance - 1997), This Time It's Love (which received a Grammy nomination for Best Vocal Jazz Performance - 1998) and Man In The Air (which received a Grammy nomination for Best Vocal Jazz Performance - 2003).
He programs drum parts for a writing team that includes his wife, Barbara, and noted songwriter/singer Jim Peterik. Together, they have written songs for groups such as the Doobie Brothers and Mecca.
In addition, Paul has also been elected five times to serve on the Board of Governors: three terms for the Chicago Chapter of NARAS (The National Academy of Recording Arts & Sciences), and two terms for The Recording Academy Chicago Chapter.
Hailed as "one of the most musical and well-rounded drummers in music today", Paul's versatility has enabled him to appear in a wide variety of musical settings such as:
Playing on hit acid jazz records with folk/soul singer Terry Callier
Playing big-band charts with writer/arranger Nelson Riddle
Playing funk R&B jazz with pianist Ramsey Lewis
Playing on an award winning blues-rock album with singer/guitarist Ellen McIlwaine (in a trio with bassist Jack Bruce)
Playing new adult contemporary fusion-jazz with the group Special EFX
Playing on a recording of African-based music with ethnomusicologist Paul Berliner and KUDU
Backing up a variety of touring acts: from R&B groups like the Drifters, Little Anthony, the Coasters, the Shirrelles, Mary Wells, to singer Rosemary Clooney, to comedy acts such as Phyllis Diller and Joan Rivers
Playing traditional "hot" jazz with the Memphis Nighthawks.
Paul's drumming can be heard on the Paul Winter album, Earth: Voices Of A Planet, which won a Grammy nomination in 1990 for Best New Age Performance. He recorded three albums with the Simon & Bard Group, and has recorded albums with Paul Winter alumni Eugene Friesen and Paul Halley, as well as ex-Mahavishnu Orchestra violinist Jerry Goodman. Paul also played for and appeared in the movie The Babe. To date, he has performed in all 50 states in the U.S. as well as over 60 countries around the world.
Download Drum Workshop - Artists Wallpaper (1024x768):
Some of the many other jazz artists Paul has performed with include:
| | | | | | |
| --- | --- | --- | --- | --- | --- |
| Larry Coryell | Eddie Harris | Lee Konitz | Ben Sidran | Dave Liebman | Herbie Mann |
| Lew Tabackin | Chico Freeman | Sam Rivers | Terry Gibbs | Buddy DeFranco | Bob Mintzer |
| Muhal Richard Abrams | Ken McIntyre | Von Freeman | Marcus Belgrave | Ira Sullivan | Bunky Green |
| Joshua Breakstone | Tim Hagans | Milt Hinton | Roscoe Mitchell | Rick Margitza | Evan Parker |
| Jay McShann | Art Porter | Lester Bowie | Surgey Kuryokhin | Randy Brecker | John McNeal |
| Scott Hamilton | Jaco Pastorius | Judy Roberts | Mars Williams | Emmett Chapman | Gene Harris |
| Richie Cole | Willie Pickens | Lou Levy | George Freeman | Ron Carter | Tomasz Stanko |
| Joe Daley | Jim Pepper | Fareed Haque | Miroslav Vitous | Steve Coleman | Paul McCandless |
| Jodie Christian | Matthew Garrison | Donald Harrison | Franz Jackson | Howard Levy | Tiger Okoshi |
| Dave Holland | Ari Brown | Bennie Powell | Alan Pasqua | Bob Sheppard | Darryl Jones |
| Gil Goldstein | Kenny Davern | William Russo | Rebecca Parris | Alan Eager | Pete Cosey |
| Phil Markowitz | Ron Blake | Bobby Enriquez | Henry Butler | Marvin Stamm | Patricia Barber |
| Sonny Fortune | Dr. Lonnie Smith | George Coleman | Eldee Young | Kahil El'Zabar | Famoudou Don Moye |
| Niels Lan Doky | Arild Andersen | Bendik Hofseth | Paolo Fresu | Richie Patterson | Carl Fontana |
| Brian Lynch | Curtis Fuller | Eddie Henderson | Benny Golson | Terrance Blanchard | Tierney Sutton |
| Mark Egan | Arthur Blythe | Hal Russell | Buster Williams | Fred Hopkins | Jeff Berlin |
| Chris Vadala | Ken Chaney | Lynn Seaton | Dr. Lou Fischer | John Campbell | Fred Hamilton |
| Bill Evans | Diane Schuur | Truck Parham | Ralph Moore | Eddie Calhoun | Hamid Drake |
| Delfayo Marsalis | Peter Appleyard | John LaBarbara | Eric Schneider | John Young | Javon Jackson |
| Junior Mance | David 'Fathead' Newman | Gerald Veasley | Leon Sash | Buddy Childers | Eddie Higgins |
In the educational field, Paul has been a regular columnist for Drums & Drumming magazine and DRUM! magazine, and has written for and served on the advisory board of Drum Tracks magazine. He was the featured artist on the cover of the January 1995 issue of Modern Drummer magazine. Paul was also a contributor to Paul Berliner's critically acclaimed book Thinking In Jazz. He has conducted drum clinics around the country, at such prestigious teaching institutions as the University of Miami, North Texas State University, and the Drummers Collective; as well as giving seminars in Argentina, Italy, Germany, Israel, Greece, New Zealand, and at Musicians Institute in both London and Los Angeles. He also conducts master classes and teaches private lessons. In 1987, he released Fine Tuning Your Performance, an educational video for drummers. His second video (for Warner Bros. Publications) is entitled Paul Wertico's Drum Philosophy (formerly released by Rittor Music in Japan under the title Sound Work Of Drumming). From 1992 to 2008, he was a member of the wind & percussion faculty of Northwestern University, specializing in drum set. In 2002, he joined the jazz faculty of the Chicago College of Performing Arts at Roosevelt University, where in 2007, he was appointed Interim Head of Jazz, and in 2008, he was appointed Assistant Professor of Jazz and Head of Jazz Studies and he became a tenured Associate Professor of Jazz in 2014. Paul was one of the featured clinicians at PASIC '94, PASIC '99, PASIC '02, and PASIC '18 (Percussive Arts Society International Convention); he performed with Kurt Elling and Trio New at the 1996 IAJE (International Association of Jazz Educators) convention, and he conducted a drum seminar at the 1997 IAJE International Conference. Paul was also one of the featured performers at the Modern Drummer Drum Festival '97. In 2010, the Cape Breton International Drum Festival in Canada awarded him with a "Life Time Achievement Award" for his "Major Contribution To The World Of Drumming & Education", and he also received the 2010 Montréal Drum Fest's coveted career recognition award.
Paul has also been involved with musical product development. He was a member of the D'Addario Musician's Advisory Board which assisted in developing and testing new types of Evans drumheads and coatings. He was one of a select few drummers chosen to sample, review, and critique the new "Traditional" line (Paul's suggestion for the line's name) of cymbals for Paiste. Paul has three "Signature" products made by ProMark: his drumstick, the "Paul Wertico model - TX808W"; and two new innovations in sound called "Tubz" and "KidzTubz". In addition, Slug Percussion Products is now manufacturing a Paul Wertico Signature Drum Tuning Key-Clip.
In 1993, Paul released his first solo CD entitled The Yin And The Yout featuring original compositions and the playing of Bob Mintzer, Dave Liebman, Richie Beirach, Pat Metheny, Dave Holland, Mino Cilelu, Victor Bailey, Michael Bearden, Howard Levy, David Mann, Brian Keane, and Paul's wife Barbara Unger-Wertico. The disc was released in Japan on Canyon International Records, in Europe on veraBra Records, and in the U.S. on Intuition Records, and has received excellent reviews worldwide; it was awarded four stars from DownBeat magazine and was voted one of the top 10 albums of 1993 by the Chicago Sun-Times.
In 1998, his second solo release, a live CD of the The Paul Wertico Trio entitled Live In Warsaw!, came out on Igmod Records. It features John Moulder on guitar, Eric Hochberg on bass and Paul on drums. It was awarded four and a half stars by Down Beat magazine.
Paul next two CDs, Don't Be Scared Anymore, released in 2000 on Premonition Records, and StereoNucleosis, released in 2004 on A400 Music Group, received remarkable critical acclaim, including LA Weekly review: "One might wish that Wertico would step out more; his recent records, such as 2000's Don't Be Scared Anymore and the new StereoNucleosis, are stunning examples of the electronic, rhythmic and intellectual directions jazz could be going." and the All Music Guide wrote: "Wertico and his players have done something wonderful and rare: they've actually created something not only different, but also truly new. In the words of Henry James, "the thing that cannot be repeated" is the true definition of art."
Paul's 2006 CD Another Side is on the Naim Label and has been described as "a brilliant collaborative effort between these three uniquely talented musicians."
In 2007, Brian Peters and Paul released their CD Ampersand, which Drummerszone.com called "Simply a musical masterpiece."
His 2010 CD, Impressions Of A City, featuring his band, Paul Wertico's Mid-East/Mid-West Alliance, has been described in reviews as "One of the most impressively spontaneous albums you'll find on this planet - or any other"; "Haunting and memorable…an engaging musical experiment and one that is highly unique."; "This is musical narrative at its finest. A fanfare for the common (and mechanically exploited) 21st century man and woman."; "Sometimes beautiful, other times tense or just plain spooky, Impressions Of A City ought to go some way toward correcting the dubious reputation of avant-garde music."; "A wildly unpredictable journey into one man's apparently inexhaustible sonic imagination."; and DownBeat magazine gave it 4 1/2 stars, listed it as one its "Best CDs of 2010", and wrote "What makes the music work is not only that Wertico is not content to just "play it straight" as a drummer but that his skills as a conceptualist/leader may even be greater. A heads-up for all budding drummers (check out Wertico's inventive pause of a solo on "My Side Of The Story") who would like to hear and create music that goes beyond just keeping time."
Paul Wertico's Mid-East/Mid-West Alliance band also released a Live In Concert DVD, entitled "Live From Space". In a review, the Chicago Examiner wrote "More than setting tones, moods, and the stage for future, like-minded experimentation, these talented musicians have managed to also push the limits of what jazz can be, while entertaining a wider form of audience."; and thiszine.org wrote "For Wertico fans, this DVD is a must have, showcasing innovative, finely tuned jazz talent. For new fans of modern jazz, this would be a staple, and a great place to start before your journey backwards."
Paul has also released five other co-op CDs:
A percussion duo CD, with former Cecil Taylor drummer Gregg Bendian, entitled BANG! on Truemedia Jazzworks. The Chicago Tribune reviewed it as "one of the most unusual and provocative recordings of the new year" and it was awarded four stars by DownBeat magazine;
A two drums/two guitars 3-CD box set entitled The Sign Of 4, that features improvisations by Derek Bailey, Pat Metheny, Gregg Bendian and Paul that were recorded both live and in the studio during December 1996 for the Knitting Factory Works. It also was awarded four stars by DownBeat magazine;
A CD of the Hobgood/Torff/Wertico Trio, entitled Union on Naim Audio, which features Laurence Hobgood on piano, Brian Torff on bass, and Paul on drums. It was voted "One of the Best 10 albums released in 1997!" by both the Chicago Tribune and the Chicago Sun-Times;
The second CD of the Hobgood/Torff/Wertico Trio, entitled State Of The Union on Naim Audio. It was voted "One of the Best 10 albums released in 1999!" by the Chicago Tribune and it was also awarded four stars by DownBeat magazine. Jazz Times wrote "The album ranks among the leading piano-jazz discs of 1999."
A trio CD entitled Jazz Impressions 1 with pianist Silvano Monasterios and bassist Mark Egan. Chicago Jazz Magazine wrote "From the first note of Jazz Impressions 1, you know you're in for something interesting and different. What these three do with that format, however, is nothing short of breathtaking."
Paul has also recorded seven CDs and 2 DVDs as a member of the legendary Eastern European rock band SBB.
Some of his latest releases include a DVD & CD by David Cain & Paul Wertico entitled Feast For The Senses; a CD by Paul Wertico & Frank Catalano entitled Topics Of Conversation; a CD by Fabrizio Mocata, Gianmarco Scaglia & Paul Wertico entitled Free The Opera!; a DVD & award-winning CD by Wertico Cain & Gray entitled Sound Portraits; Wertico Cain & Gray's second CD entitled Out In SPACE; Wertico Cain & Gray's second DVD & third CD entitled Organic Architecture; Wertico Cain & Gray's fourth CD & downloadable video release entitled Realization (which was nominated for "Best Live Performance Album" and "Best Long Form Video" in the 15th Annual Independent Music Awards (2016); Wertico Cain & Gray's fifth CD entitled Short Cuts - 40 Improvisations, Wertico Cain & Gray's sixth CD entitled AfterLive; Wertico Cain & Gray's seventh CD & downloadable video release entitled Without Compromise; Paul Wertico Trio's 25th Anniversary CD entitled First Date; and a CD by the Gianmarco Scaglia & Paul Wertico Quartet entitled Dynamics In Meditation.
Endorsements:
Drum Workshop drums, pedals, and hardware
Dream cymbals, gongs, pitched percussion
Remo drumheads and World Percussion
Promark drumsticks, brushes, mallets, Tubz, KidzTubz, etc.
Shure microphones and products
Slug percussion products
Grip Peddler products
Factory Metal Percussion
Stick Stuff
Alternative Mode/KAT products
Humes & Berg cases
The Original Drum Screen
Sensaphonics products
Cakewalk products
Alesis products
Universal Audio products
iZotope products
The Drumometer
The Beatnik
The Slapstik
Metrophones
S-Hoop products
Fingerstix
Futz
PC Drummer
Hear Technology products
FXpansion products
Puresound Percussion
The Triplet Drum Glove
Power Wrist Builders

ProMark is now manufacturing the following Paul Wertico "Signature" product called Tubz.
Designed by Paul Wertico. Use them on drumset, congas, timbales, bongos, cymbals, vibes, marimba, tympani, marching drums, or any other percussion instrument. Create fresh, new sounds unlike anything you've heard before! These Tubz are very cool! Extremely durable, high-impact, semi-flexible plastic. 16 1/2" in length. 1 1/4" in diameter.
Slug Percussion Products is now manufacturing a Paul Wertico Signature Drum Tuning Key-Clip.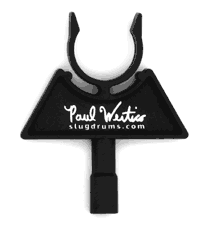 The Paul Wertico Signature Drum Tuning Key-Clip is always where you need it! Clips to 7/8" to 1 1/8" tubular hardware. Works with all standard .218" drum tension rods. Easy to hold and use for fast tuning and drum head changes. Made of Super tough glass filled Nylon. Strong enough to tune drums, and does not damage hardware.
More Equipment Information: