Welcome to PaulWertico.com!
Recording Reviews:
Hobgood/Torff/Wertico - State Of The Union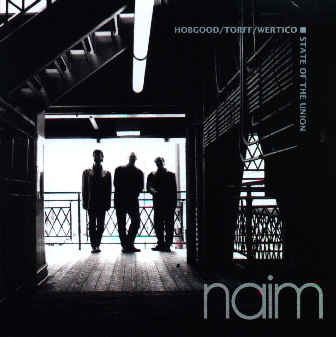 Voted one of the Best 10 albums released in 1999! - Chicago Tribune
Chicago Tribune
In 1997, a remarkable new trio staffed by pianist Laurence Hobgood, bassist Brian Torff and drummer-percussionist Paul Wertico released a striking debut, Union. The shimmering textures and haunting lyricism of that CD signaled that a potentially important jazz trio had arrived and instantly stoked interest in a follow-up recording. To listeners who value this trio, and there are many, two years seemed like a long time between releases, but State Of The Union was well worth the wait. Here are three remarkably spontaneous improvisers unafraid to veer between simple diatonic melodies and provocative splashes of dissonance, between gently swinging rhythms and free-form, unmetered statements. The thrust of this recording, as with Union, is on translucent ensemble sound, delicately stated lyricism, an Impressionistic approach to color and an unusual degree of introspection and contemplation. With unmistakably original compositions (by each of the musicians), Hobgood/Torff/Wertico sounds like no other trio working today, and that alone is an impressive achievement.
Stereophile
Union's State Of The Union, recorded live at the Steppenwolf Studio Theatre, has the kind of enormous dynamics you'd expect to achieve only from high-tech studio extravaganzas. You'd be wrong. Ken Christianson characterizes the sound of this hall as "lush and full, yet clear and precise." The trio conducts a grand tour of modern jazz outposts and whistle-stops in one continuous performance, sounding for all the world like the Bill Evans Trio on steroids (or, on the title tune, Cecil Taylor's wake-up call). This is due in part to pianist Laurence Hobgood's serene touch, warm voicings, and flexible rhythmic gait, the slightly larger-than-life dynamics of Brian Torff's Banchetti bass (an upright electric design), and drummer Paul Wertico's muscular command of pianissimo and the outer reaches of sound (as on his splashy dance of metal and skin on "Bekiduan"). On Hobgood's broad brush strokes in the folk song "Jacob's Ladder," the piano is not rendered where each register is delineated in a super distinct manner as with the John Lewis recording, but in a one-voice, organic sound as it might be perceived from a few rows back. It functions as an equal component of a trio sound (panned left-right across the stage from piano to drums, with the bass in the middle), as when he mirrors the trio's stately understated collective posture on "Where is Love?," or the giddy manner in which all three back into the feverish swing of "How About You" from an arrhythmic-atonal intro. And Wertico's masterful tuning of his bass drum, and a colorful mix of bell sounds, toms, and ritual rhythms (chants) on "Calling Song," make for a superb test of your speakers' dynamic range. All in all, Union's probing recital is a rich-sounding portrait of a band on an upward creative arc.
G21
All right, folks. Be truthful. How many of you have heard of Union? Come on, don't be shy. Put those hands in the air. Just as I thought. Almost no one in the Powerssound audience is familiar with Union. There's a quick remedy for that. Just dash down to your favorite CD supplier and buy a copy of State of The Union (Naim Records). This is the second release from Union in the past year and a half, and it's a superb effort by the trio of Laurence Hobgood on piano, Brian Q. Torff at the bass and Paul Wertico on the drums. The idea behind Union is to explore new possibilities for jazz by the conventional piano trio. There will be moments when listening to this disc that you may wonder about what the group is attempting. Repeated listenings, however, will make the album one that may quickly climb onto your list of favorites. Union's players all have other gigs going. Hobgood works with Kurt Elling. That collaboration has resulted in multiple Grammy nominations. Torff works in the music department at Fairfield University, as well as with his band Thunderstick. Wertico has performed with the Pat Metheny Group. He also can be heard on another Naim release, Cats Cradle, which I will be reviewing soon. One of the added delights for State Of The Union is the work of recording engineer Ken Christianson, whose sound work is admirable. The recording is, according to the company, unedited, unmixed and untampered with in any way. And that makes for a joyous listening experience.
Chicago Tribune
The follow-up to this band's brilliant debut of 1997 reaffirms its position as one of the most promising trios in jazz. Pianist Laurence Hobgood, bassist Brian Torff and drummer-percussionist Paul Wertico create shades and half-shades of sound that are otherwise uncharted in the jazz trio repertory. Their music - original yet accessible, melodically free flowing yet lucidly structured - could extend the parameters of trio jazz.
Music Direct 2000
Maybe we're a little biased, but we think longtime Chicago pianist Laurence Hobgood and the Union trio will no longer be a secret after the release of their brilliant second album, State Of The Union. Although together for only a couple of years, Hobgood, bassist Brian Torff, and drummer Paul Wertico (from the Pat Metheny Group) play with the understanding and empathy of a band that has been together for decades, exploring new harmonic boundaries while always remaining engaging and accessible. A typical Naim sonic marvel as well - warm, vivid, and natural.
Pittsburgh Tribune-Review
The band has the sound of a Keith Jarrett group in its exploratory analyses of tunes. - Four Stars!
DownBeat
The album is well worth checking out. - Four Stars!
Jazz Improv
The back cover is instructive; see it as you hear the first track. It shows the trio standing, tall and apart, surrounded by open space. That's how we begin, as piano yawns over misty drums. The echo is full, the sound is tender - a wonderful start for Laurence Hobgood. In time the bass steps in, a sinewy slide; the tune's now stronger, with the delicacy intact. It's called "Don't Look Back," and they don't - three separate voices that form into one. And that, I believe, is the definition of union. Keep ears and mind open: the same approach is rarely heard twice, and never consecutively. "Bekiduan" is romantic with force, a charge like the faster Bill Evans. Torff has a good twang, and the pattering drums hold many delights. After this, a minute of chaos - "State of the Union" is much like our own, shouting in the midst of discord. And out of this, bliss - Hobgood alone, with eternal sustain. "Jacob's Ladder" races and roams, but always returns to its simple beauty, staid and refined. And that suits Hobgood very well. Have fun with the cover tunes - each one is rearranged, with themes well-concealed. "Double Rainbow" is suspended in time, with a mood like Satie-chamber music of the loveliest kind. "How About You" is barely heard at the onset, which attacks like Cecil Taylor. (For comparison, find Cecil's version of "Sweet and Lovely.") Without warning, it shifts, to a rapid-fire swinger set in a lounge. This belongs to Wertico, whose polyrhythms are right for this sound. He then fogs up the cymbals, as "Where Is Love?" travels achingly slow. It's a lush place, somewhere between Evans and Red Garland. Suffice to say, you will want to be there. Some experiments flower before the final stretch. "Calling Song," a feature for Wertico, is a rash of gamelan bells, sparring with rattles and a mighty bass drum. The feeling is warmer on "Spirits Rejoice," and noisier on "Mice." Torff shines on both of these, using high plucks with distinction - then a solo "Willow Weep For Me," where he swoops like a berimbau. A roster of clicks, slides and funky pops - it's hard to find a more melodic bass. "Mandela" is a step toward soul-jazz; Hobgood chords broadly as Torff hits deep bottom. It's little more than a riff restated till closing, but that's sufficient. That also applies to "State of Mind," the spooky finale. Piano strings are plucked, cymbals wisp up, an end is reached, still and unique. You close the album, and again look at the back cover. The image is apt - these guys definitely stand apart from the crowd.
Hi-fi+
Another find from the recent Naim sampler, this trio impressed me with the delicacy of their playing, coupled with great sound quality. The album opens with gently brushed cymbals, sliding double bass lines and delicate piano work before kicking into a gently rolling groove in "Don't Look Back". The soft jazz mood is sustained through the second track but just as you're being lulled into a pleasantly soporific state, "State of the Union" kicks in with some mighty discordant playing before again settling back into a dreamy groove. There's some particularly beautiful piano playing from Laurence Hobgood on this track, sounding at times a little like Keith Jarrett, at others like Bill Evans, but mostly like himself(!). The same pattern follows through the CD, lot's of delicate, and quite beautiful playing interspersed with just enough discord to keep you alert. The first really fast number doesn't appear 'til a particularly frantic take on "How About You" where the band prove they're just as capable of handling high-octane stuff as the late night music elsewhere. Mid way through the album, the pace changes again with "Calling Song" which features temple bells, and an Airto like array of percussion from Paul Wertico. Fine playing also from Brian Torff on bass: just listen to his tour de force in "Willow Weep For Me". In fact very fine playing from all three throughout.
All Music Guide
Laurence Hobgood, Brian Torff, and Paul Wertico's Union is a busman's holiday for the musicians. On their second album, they take tunes from everywhere - the folk song "Jacob's Ladder, " Antonio Carlos Jobim's "Double Rainbow, " Lionel Bart's "Where Is Love?" from the musical Oliver, and some originals - and have fun with them, sometimes playing slowly and thoughtfully, sometimes melodically and warmly, sometimes in cacophonous free improvisation. The spontaneity of the sessions is added to by the recording process, which is strictly direct to stereo, unmixed and unedited, and in that sense true jazz. The players are familiar enough with each other to play sympathetically, but since they only get together occasionally, there are plenty of surprises. It may not be their best, most considered work, but there's some fine playing.