Welcome to PaulWertico.com!
Video Reviews:
Paul Wertico - Drum Philosophy DVD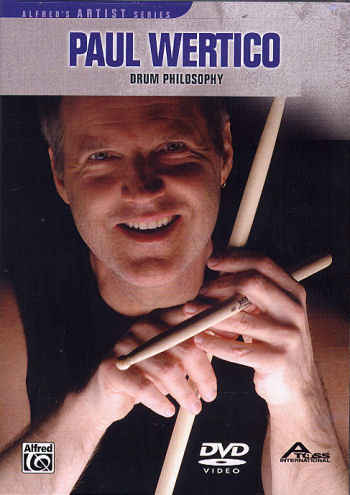 Modern Drummer (THE HIT LIST: Drumming Videos That Set The Standard)
This exceptional reissue is one of the most valuable videos on the market for the advanced drummer. Seven-time Grammy winner Wertico articulately explains his organic approach to several dynamic, jazz-based pieces. Wertico's creative drumming offers a welcome alternative to today's typically dogmatic, technique-laden instructional.
DRUM!
No mere instructional video, Paul Wertico's concise offering shows the former Pat Metheny Group drummer's extraordinary musicality and intuitive approach to the instrument parlayed into an enjoyable if unconventional 110-minutes of instruction. Whether dissecting the finer points of grip or how to get the widest range of tones out of your cymbals, Wertico makes clear he's one of rhythm's deepest voyagers.
There's so much drummy stuff going on in just a single composition, Wertico only needs three songs for the whole dang video. "The Smuggler," by Paul Wertico Trio, ought to have been named "Cymbal Dance." At one point on "Cowboys & Africans" he's playing with his bare hands and leaning on the snare head with his elbow. He plays "Time Impulse" with knitting needles for God's sake.
One of the best segments is the use of ghost notes to imply speed. While Wertico includes the chapter "Advice For Young Drummers" and work-shops key parts after soloing, there's no step-by-step hand holding here: The assumption is you're already an advanced player.
Modern Drummer
Paul Wertico is a natural teacher who with ease imparts the priceless knowledge he's accumulated with jazz giant Pat Metheny and numerous other projects. On Sound Work Of Drumming Wertico discusses the basic theories behind his drumming, then adapts to those specific pieces, played here by his quintet. He spends a good amount of time explaining what he did on each section of the arrangements, getting right to their musicality. Among his methods: approaching each song with a clean slate, taking chances, being spontaneous, and recognizing the importance of every musical moment. Wertico goes on to share useful ideas about feel, time, and practice, and talks about employing unusual cymbal combinations - even playing "Time Impulse" with a pair of knitting needles (for a "mischievous" sound). So many of Wertico's obsessions have to do with sound, it's charming to see him brought to a halt later in the film by a buzzing wingnut and a squeaky throne. This inspiring video gets to why Paul Wertico plays music - a worthy endeavor to be sure.
Tiger Bill's Drum Beat (www.tigerbill.com)
Paul Wertico first came to fame as a member of the Pat Metheny Group and, after collecting numerous Grammy Awards, moved on to play with jazz greats from Eddie Harris to Larry Coryell, not to mention his own trio. Here I check out Paul's DVD Drum Philosophy.
Main Chapters:
Following an introduction where Paul introduces the members of his band, who play the original tunes throughout the DVD, the main chapters are:
Stick Technique: Paul offers his take.
"The Smuggler": Paul explains his approach to this tune and offers some practical tips before performing the tune with his band.
"The Smuggler" Explanation: More detailed analysis by Paul of what he was playing throughout the song.
"Cowboys and Africans": This original tune has Paul starting out with a drum solo that includes some pitch bending and bare hand chops.
"Cowboys and Africans" Explanation: A detailed explanation by Paul.
The next three chapters are interviews with some of Paul's band members covering their thoughts on Paul as a musician and drummer:
Laurence Hobgood's Thoughts on Paul: (Paul's keyboardist)
John Moulder's Thoughts on Paul: (Paul's guitarist)
Eric Hochberg's Thoughts on Paul: (Paul's bassist)
"Magical Space": Paul performs a condensed version of this song, opening with an explanation of his approach to the tune.
Playing Musical: Paul explains his musical approach to the drums and how he strvies to keep things constantly moving and always interesting.
Ghost Notes: Paul demonstrates his use of ghost notes to enhance dynamics and chops, which include making his cymbal time playing appear to be faster than it actually is.
Advice for Young Drummers: Includes practice tips, the importance of getting a good sound out of your drums from the beginning, and the difference between time and feel.
Barbara Unger-Wertico's Thoughts on Paul
"Time Impulse": An original tune that has no time signature where each musician plays off the other freestyle, while Paul plays his drumset with knitting needles!
More Philosophy: Paul's explains his philosophy of always relating what he plays on the drums to melody.
Special Features:
These include Metrum 3, a short film featuring painter Magda Bielesz and Paul; excerpts from Paul's appearance on Columbia College Chicago's TV show Musician's Studio; Drum solo from Paul's performance at Sligo Jazz Project; Paul's band Earwax Control playing at Curt Bley's wedding!; and excerpts from Paul's solo performance at Modern Drummer Festival 1997.
Bottom Line: Paul Wertico - Drum Philosophy DVD
As you might have gleaned from this review, Paul is an extremely musical drummer whose ample chops take a backseat to his groove with the band, as it should be. I recommend this DVD to all drummer's looking to improve their musicianship and creativity.
Drum.com
Like many of you, as a student of the instrument I would emphasize the need to sit down and view Paul Wertico's Drum Philosophy DVD in its entirety. Not only will you enjoy this DVD, I can assure you that you will find Paul's insights invaluable with respect to playing the drum set in a true musical and melodic sense. Also, thanks to Alfred Publishing for their ongoing commitment to the types of instructional gems such as the one we have here in Drum Philosophy.
If you're not old enough or just haven't been fortunate enough to experience Paul Wertico, here is some background...
In the early 1980's, Paul Wertico became the drummer for the legendary Pat Metheny Group, and while with them, earned an unbelievable seven Grammy Awards which included Best Jazz Fusion Performance, Best Contemporary Jazz Performance, and Best Rock Instrumental Performance. After leaving the Pat Metheny Group in 2001, Paul co-led the critically acclaimed trio, Spontaneous Composition and Earwax Control, of which a performance can be seen on the Drum Philosophy DVD. Paul also still performs with his closest mates, themselves renowned musical legends (Laurence Hobgood - Keyboards, John Moulder - Guitar, Eric Hochberg - Bass in the Paul Wertico Trio. These are the musicians on the performing on the DVD; and they also share their thoughts on Paul Wertico's musicality. (see Paul's website @ paulwertico.com for a much more comprehensive anthology of his experience and the many albums to his credit.
These days, Paul Wertico is as busy as ever since recently receiving a full time appointment as Assistant Professor and Head of Jazz Studies at the Chicago College of Performing Arts at Roosevelt University.
Back to Paul Wertico Drum Philosophy... Teaching comes naturally to Paul, his calmness while explaining his musical philosophies seems to complement the looseness and tension free feel that he displays on the drum kit. His approach to drums is to produce tonal and melodic musicality; much like an artist creates layers of colors, one over the other that ultimately creates the desired feel. Paul Wertico also has the most developed sense of hearing the music that I've ever observed; and he offers some great advice on the overall sound of your kit. He also explains his ability to remove himself from the song which is very important because we must always remember that being a professional musician is not all about self-indulgence, but about the listener's perception.
In Drum Philosophy, Wertico spends ample time explaining how each performance piece was created and the type of feel he was going for. He spends quite a bit of time discussing the importance of every part of the song and what it is trying to convey. In other words, there should be no wasting of musical moments. The chapters include:
- Stick Technique to get the sound you are looking for (check out Paul's recommendation on using knitting needles instead of sticks in situations to bring out additional tones which is demonstrated in "Time Impulse")
- Melody on playing to the melody; which cuts right down to the type of musicality that can be achieved on the drum set.
- Ghost Notes where Paul shows how he uses them to enhance overall tone and dynamics, especially on the cymbals to enhance greater speed.
- Drummer advice where Paul offers solid tips on practice, and an explanation of as to how the notion of time and feel are really quite different. This also leads into a stunning performance called "Time Impulse", which is a freestyle frenzy which exemplifies his ability to dig deep within and play off each of the other musicians.
Great performances with subsequent explanations & breakdowns of original tunes such as "The Smuggler", "Cowboys & Africans", which all the while demonstrate Paul Wertico's philosophy of musicality, movement and melodic expression.
Paul Wertico Drum Philosophy offers a framework to playing the instrument not just as a drummer, but as a true musician. I highly recommend this DVD as it really does represent what I would consider a fresh approach to the drums from the perspective of pure musicality.
Lastly, to those graduating high school this year or next, and are considering numerous musical programs to further their education, I would strongly suggest adding to your list the Jazz Studies Program with Paul Wertico at the Chicago College of Performing Arts at Roosevelt University.
DrummerCafe.com
Originally released in 1997 but now available in DVD format, Paul Wertico - Drum Philosophy now has a run time of 110 minutes with the added special features.
It's important to note up front that this is not an instructional DVD. Educational yes, but not instructional in the way that many may have come to know (and expect). The DVD is about Paul Wertico's philosophy of drumming and approach to the drums. So if you are looking for a "how to" type of video, you are going to be disappointed. However, if you are into Paul's playing and would like to learn more about his musical thoughts and why he does what he does, you will be quite pleased with this DVD.
Paul Wertico - Drum Philosophy opens with a short introduction by Paul, followed by a brief explanation of his loose, "fingers off", stick technique. What follows are studio performances of Paul's band performing four tunes from their repertoire. Tunes include: "The Smuggler", "Cowboys and Africans", "Magical Space", and "Time Pulse". Paul takes time to give a little introduction for each tune, then afterwards, an explanation of what he actually played and why. Peppered throughout the video are comments about Paul from other musicians in the band.
Besides his perspectives for each of these four tunes performed, Paul spends some time giving his thoughts on playing musicial and using ghost strokes, as well as some insightful advice for young drummers.
Bonus features include:
Metrum 3, a short film from Polish director Przemek Mlynczyk featuring painter Magda Bielesz and Paul Wertico.
Excerpts from Paul's appearance on Columbia College Chicago's television show, Musician's Studio.
A drum solo from Paul's performance at Sligo Jazz Project in 2007.
Exclusive footage of Paul's band, Earwax Control, playing at Curt Bley's wedding in 1986.
Excerpts from Paul's solo performance at the 1997 Modern Drummer Festival.
Drummers that are serious about their craft and who desire to pursue music as a profession will find Paul Wertico - Drum Philosophy a useful resource to draw from. Although Paul's background and focus is most definitely within the jazz genre (I've been following his playing since his days with the fusion group, Simon & Bard), his wisdom and musical prowess makes him a prime candidate for the mentor position of any sincere student in the art of drumming.
REVIEW: 3 cups
Order DVD - Order Paul Wertico - Drum Philosophy - Alfred Video on Demand