Welcome to PaulWertico.com!
Performance Reviews: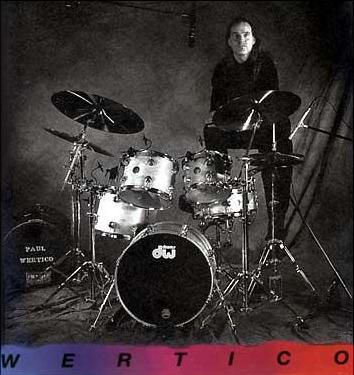 As Leader:
Chicago Tribune review of the Paul Wertico Group
In recent years, Wertico has been building a sound and musical language that is as intriguing as it is unusual, and on Wednesday night at the Jazz Buffet, he expressed that idiom with urgency and eloquence. Wertico, joined by several first-rate Chicago instrumentalists, spoke in an unabashedly extroverted manner that proved sophisticated enough to reach the jazz connoisseur yet vivid enough to please the casual listener. At the heart of this quintet, were the drummer's shimmering bursts of sound. Like an Impressionist painter, Wertico thinks in great expanses of color and pattern. Yet there is a discipline at work here too, so that even at peak volume Wertico took pains to articulate rhythms crisply, to punctuate his solos clearly and dramatically. The marvel in all this is that Wertico and friends are able to point those sounds in utterly unexpected directions.
Chicago Tribune review of Paul Wertico's 'Special Quintet' with Lyle Mays
What makes Wertico unique amoung players of his generation is that regardless of how fast and furiously he may be playing, there's an inescapable lightness to his touch. So even if he's juggling various meters and themes, his sound has a singing quality that one associates with elder statesman such as Louie Bellson and Barrett Deems. Like those swing masters, Wertico is as sensitive to pitch and color as he is to rhythm. The difference, of course, is that other aspects of Wertico's work are more modern than nostalgic, particularly the way he improvises around the beat and the unpredictable, asymmetrical nature of his phrases. Perhaps that's why the Green Mill Jazz Club was filled beyond capacity over the weekend, with music lovers eager to hear Wertico as leader. It seems unlikely that many listeners were disappointed, for Wertico not only put together an exceptional band but also led it into bracing, hard-hitting sounds. The sheer force and intelligence of this music proved difficult to resist.
Chicago Reader's "Critic's Choice" on the Paul Wertico Group
A restless innovator, drummer Paul Wertico has heretofore spent his spare time playing sideman in a dizzying array of different bands; these days, he works with similar fervor at constructing his own groups. Wertico's goal is to find the perfect amalgam of his bebop roots and his fusion/free-jazz percussive energy. Is this it? It certainly has alot of the right connections.
Chicago Sun-Times review of the Paul Wertico Group
As recently as the mid-1993 release of Wertico's terrific solo debut, "The Yin And The Yout", it was easy to call him a fusion artist. But as he has continued to broaden his stylistic reach, while consolidating his sound, the tag has come to fit less comfortably. This quintet may have been formed to perform cuts from the CD, but it has jelled into a unit with unlimited potential. Like a thousand points of light - 200 per member, in true democratic fashion - the music goes off in every direction. This while maintaining the sturdiest of centers. You take leave of the band thinking you've only begun to know it, as compared to all those groups you quickly know too well. All the while, the leader backed and surrounded his troops with brilliant swoops and bursts.
Chicago Reader's "Critic's Choice" on Paul Wertico's Wicked Sics
The hyperkineticism of drummer Paul Wertico isn't confined to his aggressively inventive rhythms and fills: it extends to the gamut of configurations he runs whenever he gets time off from his regular gig with the Pat Metheny Group. Wertico's Sybil act has come to a head in the Wicked Sics, in which two of his multiple musical personalities will finally communicate with each other - to what end, we can only guess. Half of the Wicked Sics comes from Wertico's favorite touring band, an explosive power trio comprising bassist Eric Hochberg and guitarist John Moulder; so much for the relatively conventional portion of the program. The Sics also feature a second bassist in Jeff Czech, along with keyboardist Gordon James - Wertico's cohorts in the sporadically active Earwax Control, the dadaist jazz trio from a galaxy far, far away. Reedman Rich Fudoli - an at times startlingly inventive player who walks on the music's wild side - completes a lineup of unusual breadth and great potential lunacy. This group has an easily identified seam: In his trio, the interplay between Wertico and Moulder takes on the nature of a cyclone; each inspires the other to push the beat and the volume a little further, to the point where the two fronts converge and the music threatens to lift off the stage. (Fudoli is that kind of improviser, too.) But Wertico's interaction with the others takes a different, even opposite tack: as often as not, Earwax Control has propelled the music via cognitive dissonance, each player off on his own tangent. Since Wertico's drumming has proved integral to both bands, look to him to mix and match these competing concepts. This is the first (and only?) engagement of the Wicked Sics, and I'll be there - if only to see whether the center will hold.
Chicago Tribune review of Paul Wertico's Wicked Sics
During the past two decades, percussionist Paul Wertico has been one of the most consistently creative forces in Chicago jazz. Though listeners around the world know him best for his work with guitarist Pat Metheny, Chicagoans have heard the master drummer in all manner of musical settings, from straight-ahead to avant-garde, from big-band swing to the most sophisticated forms of fusion. Over the weekend, however, Wertico topped himself, unveiling a new band that somehow weaves the drummer's many musical languages into a single, nearly overwhelming whole. Dubbed Paul Wertico's Wicked Sics, the band is staffed by some of the most gifted improvisers working in Chicago today. So perhaps its impact should not have come as a surprise, considering that the band featured John Moulder's fiercely melodic work on electric guitar, the great Rich Fudoli's ebullient solos on a variety of reeds, and Gordon James' intellectually provocative statements on keyboards. Add to that Wertico's explosive percussion solos, Eric Hochberg's sumptuous bass lines and Jeff Czech's harmonically daring statements on bass and violin, and you have all the necessary ingredients for cutting-edge jazz improvisation. But Wertico and friends went even further out on a limb than one might have expected. For starters, some of the compositions divided the band into two units, with one stationed on the stage, the other at the small grand piano behind the Green Mill bar. To hear these two components blasting sound at each other at one moment, trading musical riffs at the next, was to savor sonic experimentation of a most audacious kind. Stylistically, the scores spanned a remarkable range, from straight-forward marches to free-jazz eruptions of color and dissonance; from sweetly melodic tunes to quasi-symphonic pieces in which multiple layers of sound and rhythm were laid thickly one atop another. Because of the particular skills of the musicians involved, Wertico's Wicked Sics surely represented much more than the sum of its parts. Hochberg, for instance, may be best known around town as an unusually sensitive bassist, but on this occasion he doubled with trumpet blasts and piano support. And Czech produced intricate statements on piano, violin, bass and just about anything else within reach. That Wertico could ride herd on all this sound and fury said a great deal about the man's abilities as bandleader. He and his Wicked Sics may still be sorting out their ideas, they may still be trying to find a thread of continuity amid all the musical mayhem, but they're bringing to jazz a no-holds-barred spirit of improvisation it surely can use.
Chicago Reader's "Critic's Choice" on the Paul Wertico Trio
When he's not on the road with the Pat Metheny Group, drummer Paul Wertico "relaxes" at home by leading a bewildering number of different combos. To hear him tell it, each new configuration represents "the band I've been really looking for." But even if you translate the Wertico dialect of boundless enthusiasm, this trio - road tested in a week of European appearances this past winter - may well run away from the pack. The heart of the matter lies in the magical interplay between Wertico and fire-tinged guitarist John Moulder, who also plays in Wertico's quintet. The two challenge each other on practically every chorus, with the drummer setting up latticed walls of rhythm that the guitarist can't help himself from climbing; Moulder's own lyrical, reverberating heights push Wertico even harder, and the energy level in the entire room ratchets up in compliance. (This demonic guitar playing is the work of an ordained minister, which only adds spice to the spectacle: John Moulder - Pastor of the Plectrum?) Bassist Eric Hochberg, a longtime musical intimate of Wertico's, can certainly get into orbit with his band mates, but his active accompaniment and rhythmic command more often (and more importantly) provide the center of balance for this explosive combination. Wertico has encouraged Moulder's use of a ring modulator - a sound-enhancement device that seems almost anachronistic in the digital 90s - and has no qualms about borrowing inspiration from the power rock trios of the 60s and 70s, all the while building a sturdy repertoire of original compositions. The trio can also play a mean electric-jazz blues - no small matter, considering the locale of this week's gig and the likelihood that bluesman Jimmy Johnson, whose band shares the bill, will match his own guitar to Moulder's on a tune or two.
Chicago Tribune "Critics' Choice" on the Paul Wertico Trio
The chameleonic percussionist Paul Wertico is dynamic in any setting but particularly with his trio, featuring guitarist John Moulder and bassist Eric Hochberg.
Chicago Reader's "Critic's Choice" on the Paul Wertico Trio
Hyperkinetic drummer Paul Wertico established this trio in 1994, and since then it's grown into his primary expressive outlet. It's unusual for Wertico to concentrate on one project like this: in the past, whenever he came off the road from his regular gig with the Pat Metheny Group, within days he'd have arranged a dizzying number of appearances to try out new sounds with different bands he'd assembled. So when he all but abandoned these other interests for this trio, it was as if a busy bachelor had settled down with his true love. On guitar, John Moulder can slash and burn with surprising ferocity, adding a touch of the gothic to the romantic heart of his sound. (His style also borrows a little of the velvet fire of Allan Holdsworth, but such easy comparisons don't do justice to Moulder's foxy, original presence.) And bassist Eric Hochberg, after years of jingles and jobbing, has been reborn in the 90s through his work with this trio and guitarist Terry Callier: Hochberg doesn't sacrifice texture for power, and his 25-year friendship with Wertico manifests itself in their ball-and-socket interplay. The group has evolved into one terrific ride, thanks to several short tours over the last few years (one of which was documented on last year's "Live in Warsaw!" on Igmod) and some recent Internet broadcasts--and this weekend it'll appear fresh from recording a new album Wertico hopes to have out by early Y2K. The band can certainly rock, with flashy skeins of moaning guitar and percolating bass lines. But all three members are gifted, flexible, and intuitive mainstream jazzmen, so the music can range all over Wertico's extremely broad palette--from reconstructed hard bop to heavy metal to South American pop to high-energy free improvisation.
Chicago Tribune "Critics' Choice" on the Paul Wertico Trio
Chicagoan Paul Wertico, one of the most creative drummer-bandleaders in a city famous for them, brings his trio to the Green Mill Jazz Club.
Chicago Reader's "Critic's Choice" on the Paul Wertico Trio
During his 17 years with the Pat Metheny Group, Chicago-based drummer Paul Wertico has brought an impressive diversity of rhythms to the guitarist's persuasive hybrid of jazz and rock, building an international reputation as the rocket scientist of fusion drumming. But his advanced musical intelligence coexists with a soft spot for considerably less sophisticated stuff--fusion that draws on taut, raw rock 'n' roll, the kind Metheny rarely explores. (Ask Wertico about Metallica or Hendrix, and he'll carry on with the same passion he brings to discussions of Coltrane or Charles Ives.) A few years ago, answering this call of the wild, he tapped guitarist John Moulder and bassist Eric Hochberg to form this group, which I can only call a heavy-metal fusion trio. Moulder carries the lead with a romantic sweep and gothic strength, and the band's debut studio date, "Don't Be Scared Anymore" (Premonition), has a dark energy and snarly edge that recall early-70s hard rock. Though this hardly seems like fertile ground for jazz-based improvisation, the disc succeeds completely: its sophisticated compositions and deep musicianship supply an effective antidote to the lazy excesses and meaningless virtuosity that plagued so many rockers of that era. Wertico and company spin gold out of dross--and in the process recapture a creative excitement largely missing from electric jazz since the mid-80s records of Ronald Shannon Jackson's Decoding Society. At last month's release party for the album, the trio kept a packed house spellbound, with Moulder's monster solos stoked by Wertico's drumming and emphatic lines from Hochberg--who, with another high-profile gig, directing the spare acoustic backdrops behind folk-jazz icon Terry Callier, just might be the most versatile bassist in town.
Chicago Tribune "Critics' Choice" on the Paul Wertico Trio
One of the most creative drummers in jazz celebrates the release of his exuberant "Don't Be Scared Anymore" recording.
Chicago Sun-Times review of the Paul Wertico Trio
It's not as though Paul Wertico has been tip-toeing on lily pads as the longtime drummer of the Pat Metheny Group. Deeply embedded in that band's elaborate lyrical arrangements, he gets to unleash some fearsome licks. But in leading his own sonically adventerous bands, he thrives on the opportunity to push music to the breaking point in terms of its soaring intensity while also increasing its weight and density. Saturday at Martyrs, celebrating the release of his trio's new album, "Don't Be Scared Anymore" (Premonition), Wertico never stopped pushing guitarist John Moulder and bassist Eric Hochberg with his charged attack. His playing was taut, muscular and deep, marked by booming accents and sweeping polyrhythms. While the music could be tagged fusion, it wasn't the soloing vehicle that style has come to represent. Rather, it was a case of interacting players testing the limits of song structure. In alternating between groove and flight, the trio was more impressive with the latter in giving vent to Moulder's remarkable range of expression. Though he sometimes suggests John Scofield, he boasts a highly individual tone and sense of spacing. His linear solos gathered steam by swelling and sighing even as they stung. On his composition, "The Underground," he went the Jimi Hendrix-via-Steve Ray Vaughan route to torch the blues. On Hochberg's convulsive "Testament," he spiked his playing with animated, wholly distinctive synthesizer effects. They're also happy making merry on tunes like "Justa Little Tuna," a loopy waltz inspired by the drummer's daughter, which featured Hochberg on muted trumpet. Take that, Phish.
The ONION's "Picks" of the Paul Wertico Trio
Drummer Paul Wertico is best known for his work with the Pat Metheny Group, which he's accompanied since 1983, earning seven Grammys in the process. Wertico formed the Paul Wertico Trio in 1994 at the behest of the director of the Pat Metheny Group fan club, who wanted Wertico to start his own band so he could book it on a European tour. Wertico asked his friends, guitarist John Moulder and bassist Eric Hochberg, to play with him in Germany and Poland, where they recorded their first CD, "Live In Warsaw!" It's hard to believe Moulder is a Catholic priest, given his contributions to the brash, irreverent, unpredictable jazz on the band's latest album, "Don't Be Scared Anymore" - which many consider the trio's finest effort to date.
Chicago Tribune "Critics' Choice" on the Paul Wertico Trio
The Chicago drummer can play just about any kind of music, but he has achieved some of his most dynamic work of recent years with his trio, featuring guitarist John Moulder and bassist Eric Hochberg.
VH1.com review of the Paul Wertico Trio
Power Trio's Extroversion - The kind of drum-kit bashing that one might expect from such a group came a bit earlier, in the retro-fusion set by Paul Wertico's band. Celebrating the soon-to-be-released Premonition CD "Don't Be Scared Anymore", Wertico, best known as the drummer in guitarist Pat Metheny's group, has assembled a splendiferous power trio. It stars "Father" John Moulder (ordained minister by day and dizzying electric guitarist by night) and Eric Hochberg, whose use of acoustic bass prevents the band from sounding mechanized. Moulder's slashing style, romantic imagery and his use of a primitive device to create Ring modulator effects recalled the long-ago heights of jazz-rock extroversion. When Wertico unleashed his technique to drive the beat into a frenzy on the band's finale, it served as a reminder that, despite the bad rap it's received in recent years, such music can have an exhilarating effect.
Chicago Reader "Critic's Choice" on the Paul Wertico Trio
"Don't Be Scared Anymore" (Premonition), the 2000 debut studio date from drummer Paul Wertico and his trio, immediately marked the group as a delightful anachronism. They played music that hadn't been heard since the heyday of fusion--when such groups as the Tony Williams Lifetime and the Mahavishnu Orchestra roamed the earth, unapologetically powered by rock--before the dilutions of the 80s robbed the term of whatever integrity it once had. Spurred on by dark, lapidary lines from bassist Eric Hochberg and the snarling guitar of John Moulder, Wertico indulged the wild side of his wide range. Three years later, Wertico's nearly finished with the follow-up, "StereoNucleosis" (A440), due in April, and he's taken pains to make the band's sound a bit more polished and accessible without losing the ferocity of the power trio concept. The sound is heavily produced, with overdubbed keyboards as well as violin and guitar from up-and-comer Brian Peters; Wertico's kit is mixed in something close to mono and straight up the middle (a la John Bonham) rather than in the wide stereo spread typical of fusion drumming. But the album also has a greater cogency than the debut did, the payoff of the band's extended onstage improvising over the past couple years. This brand of music always risks slipping into mere bombast or narcissistic displays of technique. But Wertico--who spent a decade and a half in the extraordinarily controlled environment of the Pat Metheny Group--has developed a sure sense of balance, and his restraint guides the band past these potential hazards.
Chicago Tribune review of the Paul Wertico Trio
The most rewarding jazz performances thrive on surprise, catching even aficionados off guard. But few drummers revel in the unexpected as wholeheartedly as Chicagoan Paul Wertico, who gave the third night of the Chicago Jazz Festival a jolt of energy at HotHouse, in the South Loop. Headlining the festival's annual Club Tour, which takes listeners via bus to several Chicago jazz venues, Wertico was not only one of the major attractions on the evening's roster but perhaps its most thunderous. Leaving no beat untouched, firing off layer upon layer of complex rhythm, Wertico quickly reaffirmed his position as one of the most unclassifiable drummers in jazz--a very good thing. One would be hard-pressed, in fact, to list many drummers of his generation who have mastered a comparable breadth of jazz idioms. He draws convincingly on the high-energy swing vocabulary of Gene Krupa, the post-bebop Impressionism of Elvin Jones, the fusion-era dynamism of Tony Williams, the avant-garde experimentation of Don Moye and on and on. Yet the sound remains distinctly Wertico, a free-flowing, sometimes hard-hitting, sometimes pictorial, always intensely wrought approach to rhythm, color and even pitch. Though Wertico utilizes virtually every stylistic idiom within jazz--and several outside of it--he combines them in unlikely ways. For his HotHouse show, Wertico freely told the crowd something that many musicians would not volunteer: The trio he convened had never performed together publicly before. Though Chicago guitarist John Moulder has been a Wertico partner for years, bassist Eric Hochberg's spot on this occasion was taken by the young electric bassist Brian Peters (who also engineered Wertico's genre-defying new CD, "StereoNucleosis"). Despite the personnel shift, Wertico and Moulder tore through some of their most outlandish repertoire as if Peters had been sharing the stage with them for years. Wisely, the talented young man kept his bass lines simple and straightforward, leaving the heavy lifting to the veterans. Meanwhile, Wertico turned in a ferocious yet crisply focused performance. Although his mallets-on-cymbals introduction to Moulder's gorgeous "African Sunset" suggested the drummer was going to create one of his characteristically shimmering tone poems, before long Wertico was unleashing a tidal wave of fortissimo crashes on "The Eleventh Hour" and hitting downbeats hard on "Almost Sixteen" (the title referring to the tune's irregular meter, not the age that Peters looked). Yet even amid the convulsions of his most extroverted solos, Wertico maintained a sense of line, direction and narrative that transcended mere virtuosity. And in Wertico's galvanic opening solo on "Cowboys & Africans," the drummer produced so much sound, yet with such clarity of attack and speed of delivery, as to reveal a facet of his technique even Wertico devotees might not have encountered from him before. Guitarist Moulder matched Wertico's intensity blast for blast, churning out searing, blues-based lines on "Almost Sixteen" and a cut-through-cement tone on "The Eleventh Hour." Here's hoping these two musicians will be playing together for decades to come, for they represent one of the most worthy partnerships in Chicago jazz.
Pittsburgh Tribune-Review
Drummer Paul Wertico and guitarist John Moulder added a steady dose of aggressive virtuosity to a gig at Gullifty's in Squirrel Hill Friday. With the help of Brian Peters, who played bass and added some odd electric effects at times, the Chicago trio offered a strongly rock-influenced brand of jazz. But they never got away from the improvisation that is the essence of the genre. The gig, for example, opened with "African Sunset," a piece shaped by a forceful bass pattern from Peters. But it was introduced by a 10-minute improvised exploration of sound and rhythm from all three and ended by drifting into another song, "Little Creatures." All told, the first presentation lasted more than 20 minutes. The performance of Moulder and Wertico was nothing short of overwhelming. Both played with never-ceasing energy and creativity, examining a wide variety of sounds and styles. It was a night with energy that demanded and received attention and appreciation from a crowd that should have been bigger.
As Co-Leader:
Chicago Tribune "Critics' Choice" on the Union Trio
Three uncommonly sensitive musicians - pianist Laurence Hobgood, bassist Brian Torff and drummer Paul Wertico - celebrate the release of their splendid CD, "State of the Union."
Chicago Reader's "Critic's Choice" on the Union Trio
The members of Union have accrued a fair amount of name recognition in other settings--pianist Laurence Hobgood as Kurt Elling's musical director, bassist Brian Torff in frequent collaborations with George Shearing, and drummer Paul Wertico as a member of the Pat Metheny Group. So presumably they've chosen this anonymous handle to advertise their democratic approach: instead of leaving the task of leadership to the pianist, they attempt a three-way interplay that would've delighted Bill Evans (who tried it first). And that interplay is remarkable: on everything from delectable standards to balladic romances to free jazz Union sounds distinctly different from outfits its members have led under their own names. Nonetheless, the trio's second album, "State of the Union" (Naim), turns out to be a showcase for Hobgood's plenary gifts, alongside strong solos and equally noteworthy background work from Torff and Wertico. But the pianist doesn't grab center stage so much as the others nudge him toward it, supporting him every inch of the way. On Richard Rodgers's "How About You," Hobgood's ear-opening steeplechase of a solo creates almost as much excitement with Wertico's fills and builds as with its own muscular melodies; on "Beyond Words" his startlingly sophisticated harmonies coalesce around Torff's unerring tonal center. And with Wertico's taste for hard beats balancing and complementing Hobgood's strong classical background, the trio can stretch its range pretty far without wearing it thin. This weekend's performances mark the release of "State of the Union."
New City "Jazz Tip Of The Week" on the Union Trio
The banner of this bass/drums/piano combo smacks of the Holy Trinity. Fact is, their debut gig was at the Union Church in Hinsdale, back in 1995, and engineer Ken Christenson, a stickler for ambient room sound, recorded them there a year later. The follow-up release, "State of the Union" - which tonight's gig celebrates - mirrors the first in that it was recorded live (at the Steppenwolf Studio Theatre) - "unedited, unmixed and un-tampered with in any way." A heart-on-sleeve showtune (Lionel Bart's "Where Is Love?") meets miniature onomatopoeic improv ("Mice"). The disc alleges faithfull recreation of real-time performance and therein showcases the trio's skill at programming a broad but cohesive set - unsurprising given their collective experience. Percussionist Paul Wertico is best known for his fusion work with Pat Metheny since 1983, though he's also recorded solo and along-side Cecil Tayor drummer Gregg Bendian. He and Laurence Hobgood have also nurtured the explosive career of Kurt Elling. Hobgood has been Elling's mentor since their initial collaboration on the Grammy-nominated "Close Your Eyes," though he has learned some from the singer, his own style growing in gregariousness, elasticity and lyricism. Acoustic/electric bassist Torff is the out-of-towner; currently on faculty at Connecticut's Fairfield University, he has done road duty with Stephane Grapelli and George Shearing. Each member could carry the gig alone and is allowed his soliloquy on the disc - Torff tackles "Willow Weep For Me" with suitably arboreal bent notes, Wertico converses between dancing bass kicks and windchimes on "Calling Song," and the baroque beauty of Hobgood's take on the folk song "Jacob's Ladder" shimmers with Impressionist frissons. When they all boot in on Torff's hip-shaking "Spirit's Rejoice" however, you realize why they need to be together.
Chicago Tribune review of the Union Trio
Historically, jazz trios have been dominated by pianists, but lately some new perspectives have begun to redefine the genre. Pianist Marcus Roberts' most recent album, "In Honor of Duke," went to great lengths to give each player equal importance and autonomy. And the beguiling new release from pianist Laurence Hobgood, bassist Brian Torff and drummer Paul Wertico, "State of the Union," has gone precisely in the opposite direction. These three musicians have worked not to be independent of one another but, rather, to jointly create a seamless fabric of sound. That has been their message from their first release, "Union," its very title indicating the unanimity of thought, gesture and timbre that drives this ensemble. Clearly, Hobgood, Torff and Wertico, who now play under the name Union, after their 1997 recording, strive to function as a single expressive instrument. and that's percisely what they did throughout a remarkable set over the weekend at the Green Mill Jazz Club. Exactly how Hobgood, Torff and Wertico managed to blend color, tone and attack without sacrificing the distinct personality of each instrument is something of a mystery. Yet Hobgood's florid keyboard manner, Torff's larger-than-life bass sound and Wertico's unusually lean and sensitive drum work with sticks, brushes and mallets merged elegantly. Theirs is an ensemble sound that is full-bodied yet texturally transparent, virtuosic yet deeply lyrical, jam-packed with musical information yet utterly accessible to uninitiated or casual listeners. But the most fascinating aspect of the work they turned in on this occassion was the sheer expressive range they achieved. If the trio's recordings have been notable for the glistening tonal beauty of their work, their live performance proved more expressively varied and stylistically free-ranging than one might have expected. Their version of "The Very Thought of You," for instance, pointed to a mainstream trio that swings effortlessly. In large part, the credit here went to Wertico, whose expert time-keeping accomodated his partners' rhythmic idiosyncrasies without relinquishing a pulsing backbeat. Yet just when the listener has this trio pegged as a sleek swing machine that operates with uncommon precision, the band will produce an orgy of unmetered rhythm and sharp dissonance that shatters expectations. The "free jazz" style introduction that opened "How About You?" eventually gave way to more straightforward playing. But more than a few listeners must have wondered if they hadn't wandered into an avant-garde free-for-all rather than another night at the Green Mill. When the musicians launched into a blues by Milt Jackson, the band alluded to elements of funk, defined by Wertico's crisp beats on drums, Hobgood's sharp tone on piano and Torff's punchy articulation on bass. And in "Don't Look Back," a ravishing ballad by Wertico and his wife, Barbara Unger-Wertico, the ensemble sound changed radically again. Suddenly, the trio was muted and the sound austere. Because each member of the trio writes in distinctive ways, the ensemble's musical range is likely to continue to expand. Add to this the players' communal approach to improvisation, and Union clearly has a shot at emerging as one of the next great trios in jazz.
Chicago Tribune review of the Union Trio
There's no telling whether the broad listening public ever will recognize the originality and sonic allure of the Union Trio. But until it does, the band's most fervent admirers will brave inclement weather, snow-packed parking places and just about any other adversity to hear this group, as they did over the weekend at the Green Mill Jazz Club. With two hauntingly beautiful records to its credit on the independent Naim label ("Union" and "State of the Union"), the Union Trio already has distinguished itself from other emerging trios. Its translucent textures, lush harmonies and fluid interaction among accomplished jazz musicians point to the rarest kind of trio: a band in which all members strive to create a single fabric of sound. So even when one of the musicians steps forward with a solo, the others envelop his music in sheaths of sound. The result is a music that virtually undulates from one phrase to the next, the ensemble sound perpetually swelling or thinning as the course of the music demands. Gone are the usual "trading fours" among competing instrumentalists; banished is the predictable alternation between solo statements and ensemble refrains. It's an unusual way to make music as a trio, but, when Union is at its best, this communal approach to jazz improvisation succeeds for one central reason: Each member of Union is willing to avoid grandiloquent solos in order to better project the larger, ensemble esthetic. It isn't often that three improvising musicians are willing to trust each other to this degree, but the musicians of the Union Trio apparently believe strongly enough in their shared musical philosophy to forgo many of the conventions of jazz trio playing. Virtually everything that pianist Laurence Hobgood, drummer Paul Wertico (both Chicagoans) and bassist Brian Torff play involves a free and flowing discourse among equals. Toward the end of the Union Trio's first set late Friday evening, the band delivered Antonio Carlos Jobim's "Double Rainbow" in a manner that summed up what this group is all about. Hobgood's free-flowing piano lines, Wertico's shimmering cymbal work and Torff's irrepressibly melodic bass playing yielded a vast wash of sound. Though this music is not explicitly Impressionistic, one often gets the sense that without Maurice Ravel, Claude Debussy and Bill Evans, the Union Trio might not sound quite the way it does. That's not to say, however, that everything the Union Trio plays has blurry textures and soft edges. In Torff's extroverted "Spirits Rejoice," the buoyant tempo, lively dance rhythms and unabashedly melodic main theme evoked the exuberant spirit of South African pop. With Torff using his bass partially as percussive instrument, Wertico providing crisp counter-rhythms and even Hobgood using sticks to telegraph the backbeat, there was no doubt that Union Trio was examining the polyrhythmic roots of jazz. One of the more surprising -- and disarming -- moments came when the band played an idiosyncratic version of Hoagy Carmichael's "Georgia on My Mind." Most listeners probably best remember Ray Charles' classic recording, but the Union Trio's version bore little relation to it. By layering Hobgood's highly stylized blues-piano riffs atop the perpetual ticking of Wertico's ride cymbal and Torff's way-down-low bass utterances, Union created a witty, postmodern "Georgia" that still had plenty of soul. For those who follow Union's work, the good news is that the ensemble will be going into the recording studio early next year to cut its third release. Regardless of how much acclaim this band ultimately does or does not achieve, Union seems well on its way toward creating a singular body of work. Neither listeners nor performers can ask for much more.
Chicago Reader's "Critic's Choice" on Earwax Control
"So what does Pat Metheny Group drummer Paul Wertico do with his time off? Well, along with Gordon James and Jeff Czech, he makes time for Earwax Control, a trio that is literally indescribable. Sometimes, it is even literally music; otherwise, it resides somewhere around the intersection of jazz, performance art, Samuel Beckett, and an electronic kaffeeklatsch. In recent years, I've attended nearly a third of Earwax Control's concerts - of course, there have only been about a half dozen - and I've witnessed instrumentation ranging from keyboards and guitars to television sets. In a sense, it's really a garage band - assuming, that is, that they have garages on Venus."
Downbeat Magazine on Earwax Control
"We're a serious band, but we don't take ourselves too seriously." So says drummer Paul Wertico, best known for his work with Pat Metheny, whose jam sessions with bassist/guitarist Jeff Czech and keyboardist Gordon James, begun in the Chicago suburb of Elgin 13 years ago, resulted in the formation of the ultra-improvisatory trio Earwax Control. Like Wertico, the others boast relatively traditional music backrounds (Czech has backed Woody Herman, Mose Allison, Bobby Hutcherson, and top Chicago mainstreamers; James is a leading Chicago-area sessionist), but it's with Earwax Control - with its totally improvised blend of music and bizarre humor - that the trio's imaginations are given freest play. James, the father of a three-year-old, compares the band's approach to music with that of a child's, and those childlike qualities aren't lost on Wertico and Czech. "Housewives," says Wertico, "will come up and say, 'It makes us want to play with our kids' toys again.' " Says Czech, "When people start learning music they start to learn things that are 'right' and 'wrong' about it, and that's sort of elitist and repressive." By downplaying these traditional rights and wrongs in favor of their own instincts, the band seeks to jolt listeners into an awareness of the greater possibilities of sound. Earwax Control's eponymously titled debut album (Depot 005) received only qualified praise in these pages (Feb. '85), but this is truly a band that needs to be seen to be believed. Given their improvisational nature, no two Earwax Control dates are alike; still, here's a sampling of notebook jottings regarding the goings-on at a recent Chicago gig: synth playing space-age noises...frenetic free-jazz drumming...Czech switches to electric bass, starts funk groove...Wertico playing military march beat, Czech accompanies on bugle...Wertico on percussion, James playing lyrical, ECM-ish piano...Czech picks up violin, starts mumbling, pauses and asks, "Where was I?", resumes unintelligible mumbling...feedback screech, Czech comments, "Audio horseradish"...music resumed, Czech starts weird, out-of-rhythm handclapping, calls out, "Everybody!", some in the audience clap along...free-form, legit-sounding fusion jam...hard-rock guitar chords... So what's it all add up to - are these guys a group of childish charlatans or the best ear-openers since the Q-Tip? Though they're not about to recommend a steady diet of this sort of thing, an Earwax Control gig can be worthwhile fun for those willing to suspend their disbelief for a couple of hours. "People have to trust musicians again," says Wertico. "If they look at us and think we're just putting them on, then they're going to close off to us; but if they can believe that what we're doing is an honest effort to explore the immediate moment, and they can take the trip along with us - that's when the experience is really happening, because the whole room becomes Earwax Control.