Welcome to PaulWertico.com!
Recording Reviews:
Paul Wertico & Gregg Bendian - BANG!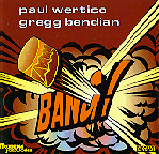 Chicago Tribune
Chicago is blessed to serve as home base for many gifted jazz musicians, none more restlessly creative nor technically virtuosic than master percussionist Paul Wertico. Though best known for his long years of work with guitarist Pat Metheny, Wertico is an extraordinary soloist in his own right, as he establishes in every bar of this tour de force recording. Teaming with the equally protean percussionist Gregg Bendian, Wertico unleashes an avalanche of sound, color and polyrhythm. Even so, the duo percussionists take pains to keep textures utterly clear and lucid, phrases crisp and witty. The result is one of the most unusual and provocative recordings of the new year.
Modern Drummer
Could an album featuring "only" two drummers really expect to sell units and/or be appreciated by the general music public? Well, based on some of the explosive, cohesive music on BANG!, why not? It is fascinating listening to all the resultant colors and rhythms that Wertico and Bendian's intertwining parts produce. It is also mesmerizing when you separate the speakers and hear what each drummer is doing, specifically to how these talented and daring players are listening and reacting to each other. Standout cuts include "Ballad," a rich melodic canvas featuring Wertico repeating a chant on tuned cowbells and timp-tom as Bendian lays into the drumkit and "prepared cymbals." "Scarlet Constellations" comes in sections and highlights cowbells with dampened vibes, bells, and Wertico's thundering drums. And "Worn March" is a very funky cadence that goes places you'd never imagine. But the tour de force here may be "Titlewaive," a majestic combination of wide-open drums and otherworldly bells. BANG! indeed. - Four and a half stars!
DownBeat
Wertico and Bendian's working relationship predates The Sign Of 4 by a few years. BANG! collects spirited, entrancing live and studio sessions from 1993 and 1994, with the two versatile percussionists joining forces to create "spontaneous compositions" for an arsenal of tuned, ethnic and conventional percussion instruments. "Pulse Paths" suggests music from Ghana, by way of Steve Reich, by layering log drums and prepared drums with steady, incremental changes in patterns. On most tracks, one percussionist lays down a rhythmic foundation for his partner's improvisations, though the roles, the instrumentation and the foundation itself constantly shift. These change-ups give "Criss-Cross Current" and the dynamic "Titlewaive" their color and variety. BANG! offers superior sound quality to capture the nuances of the performances. (On The Sign Of 4, such subtleties are often obscured by the buzz and blare of electric guitars.) I'm impressed by the economy and purpose of these duets - there's rarely a sense of excess or noodling. The sense of structure and design displayed by Wertico and Bendian recalls Max Roach's M'Boom ensemble. Like M'Boom, they transcend catagorization as "jazz" or "world music. - Four Stars!
DRUM!
Another drumming duo - Paul Wertico and Gregg Bendian - comes together on BANG!....these guys are dead serious about their project. Seasoned players who have worked with the likes of Pat Metheny, Cecil Taylor and Paul Winter, the two drummers improvise eight percussion pieces on BANG! using drum set, log drum, tuned cowbells, congas, dumbeks, woodblocks, timpani-toms and vibes. The tracks are testimony to Wertico and Bendian's ear training, revealing the type of cohesion that normally results from strict composition, with tightly-executed tempo and meter changes and implied melodies and accompaniment. Recording spontaneously without any overdubs, both on stage and in Wertico's home studio, the drummers panned their performances onto opposite channels - Wertico on the left, Bendian on the right - so the listener can follow each player separately. BANG! is every drummer's dream side-project - living proof that drumming can be musical.
Chicago Sun-Times
DUELING DUOS: If the drum duo CD isn't the least commercially promising sort of album, it certainly comes close. But as new releases by the Hamid Drake/Michael Zerang and Paul Wertico/Gregg Bendian pairings demonstrate, that has less to do with the music than the failure of imagination on the part of people who can't hear beyond the instrument's timekeeping function. "The idea that you need melody or pitch notes all the time to make music is a Western hangup," said Chicagoan Wertico, who collaborated with New Jerseyite Bendian on BANG! (Truemedia Jazzworks) while on hiatus from the Pat Metheny Group. "We're still dealing with compositions here. The form is just different." Happily, listeners are catching up to such notions. These are very different recordings. BANG! is a new music endeavor that highlights the contrast between Wertico's textural flights of fancy and Bendian's clean rhythmic articulation. In each case, though, the music sings in fresh and invigorating ways.
Stereophile
The idea of sitting through a recital by two drummer/percussionists may not seem as rarefied as a chamber piece by flute, French horn and piano, but we've come a long way baby - drummers aren't just some sub-species that hangs out with musicians. See, there's a lot of melody in rhythm, and vice versa. The very notion of one drummer employing all four limbs to emulate a whole choir of drummers - to keep time, while simultaneously shading, coloring, accenting and superimposing other rhythms on snare drum, tom-toms, bass drum, ride cymbal, crash cymbal and hi-hats - is, like, totally American. We taught the world how to swing. On BANG! these two virtuosos return the favor, extending on the tonality of the basic American drum set and cymbals with a variety of relatively pitched instruments, revealing how much of the global rhythmic vocabulary has entered our own collective language. Of course, it does help to love the sound of the drums, the sudden impact of two full kits in your lap. But Wertico (who's been Pat Metheny's drummer for years) and Bendian's kits are impeccably tuned, and the simple, visceral impact of these two-track recordings puts you right in the middle of the action - as on "Criss-Cross," where Wertico's chanting right-channel rolls are answered by Bendian's chittering nest of wooden forest sounds and a sunsplash of cymbals. These are essentially a series of improvisations, and part of what makes these two drummers so satisfying, is they make an honest effort not to turn this into an hour of drum solos. At times, the joy of just double-clutching into overdrive gets the better of them, but even on a spontaneous blaster like "Metal Urge" their rhythmic modulations betray a keen sense of form. It helps that they sequence the more varied melodic pieces up front (such as "Ballad?"); by the time you make it to the martial conclusion of "Worn March" (if you make it that far), your speakers have gotten a splendid aerobic workout.
All Music Guide
This live gig between master drummers and percussionists Gregg Bendian and Paul Wertico is the kind of event that could have turned out to be a jack-off fest by lesser players. No such animal here, though. This is as compelling a percussion performance as you are likely to find in that it doesn't come off as a big jam, but as a series of carefully constructed musical improvisations that have been arranged spontaneously by the musicians, who looked to empathy and instinct to carry out the dramatic and dynamic range of the pieces they created. None of them extends longer than its ideas dictate. Selections run between six and ten minutes and are very much song-oriented. Who can mistake the double-time shimmer of "Pulse Paths" with log drums and trap kits, or "Titlewaive"'s tune drums and a pair of trap kits. There are moments of great space and precision rolling through the kits and accoutrements; the tension levels are dictated by the range of motion employed and the timbral palette is extended in each piece to the breaking point, but never further. Nothing disintegrates into chaotic posturing or self-aggrandizing feats of skill. These men are playing together, creating something very special for the audience who was lucky enough to be present to take in and be moved by this emotionally as well as psychically. BANG! This works on every level, where other attempts by musicians who are just as talented have failed miserably.