Welcome to PaulWertico.com!
Recording Reviews:
Paul Wertico Trio - Another Side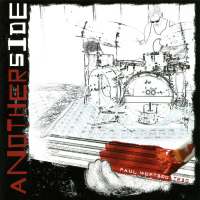 The Vortex
"Drummer-led bands are frequently units in which melody (and often subtlety) are sacrificed to the leader's need to demonstrate a fearsome technique and an easy familiarity with a plethora of rhythms. The Paul Wertico Trio, however, is a genuinely democratic outfit, weaving a unique group sound out of strikingly diverse elements: oblique blues, light (and occasionally heavy) funk, the odd excursion into so-called 'world' music and free-ish, spacy musings, all characterised by sensitive, thoughtful interaction. Guitarist John Moulder (who seems capable of switching between the almost dreamy, textural feel of Bill Frisell and the punchier bluesy style of, say, John Scofield at will) and bassist Brian Peters (who has a richly sensuous sound well served by Naim's 'True Stereo' approach) are poised and elegant throughout, yet almost raunchily powerful at times, and the album as a whole provides an object lesson in how to ring musical changes within the basic guitar-bass-drums format. Warmly recommended."
DownBeat
"Drummer Paul Wertico is actively involved in numerous groups in Chicago and even more projects elsewhere. The simplest of his musical contexts, his trio with guitarist John Moulder and bassist Brian Peters, continues to be his most satisfying avenue of expression. This is only the second studio album for the trio, and it's a bit of a departure, both in its straightforward recording and production and in its sound, one less explosive and more exploratory than previously heard. Recorded in a Chicago church, using only two microphones in a direct unprocessed analog format, the music comes across with the immediate sound of a live trio. But while the album radiates a live jam freshness there is a commendable focus and brevity accompanying it. Except for Wertico's four drum and/or percussion intros, all the material was composed by the entire trio. Some of the most interesting music comes early in the session as the first 15 minutes or so evocatively weave together everything from the church organ opener, played by Peters, to some cosmic blues guitar by Moulder on "A Slow Stroll Round A Black Hole." The core of the opening segment comes with the segue of the atmospheric "Children Of The Night," a dark and moody, almost electronica piece, awash with cymbals and sustained guitar, and "Little Creatures," the most extended cut at just more than six minutes, which creatively coalesces around Peter's bass line. Material with more emphasis on dynamics is found in "Mideastern Standard Time," as Wertico whirls up a rhythmic dervish beneath and in front of Moulder's guitar. Short songs like the percussion-driven funk of "Sticks And Stones," which benefits from an excellent Wertico intro, and the straightforward romp of "O Man" have a more conventional guitar trio sound." - 3 Stars
Premier Jazz
This CD is entitled Another Side because that's exactly what Paul Wertico wanted to show...another side of both his trio's music and the way in which the disc was recorded. His previous trio CDs, were multi-tracked, heavily layered and recorded, and mixed over a period of several months. In contrast, Another Side was recorded live to 2-track in a day and a half with no mixing. Musically, the previous trio recordings had some very aggressive and sometimes dissonant moments that bordered on avant-garde jazz and rock. His goal for Another Side was to show a more even tempered version of the trio's music and to produce a CD that could be comfortably listened to all the way to the end without extreme emotional variations. Personally and artistically, he loves both approaches, and they're all part of who he is as a musician, band leader, recording artist and producer. Together, they also expose different sides of who he is as a human being and what he is trying to express through his trio's music. With this new release, he is hopeful that it will demonstrate the trio's broadening musical concept and is thrilled that the trio is now represented on CD in a way that really captures an additional aspect of what an audience could expect to hear from it live in concert.
GadgetSpeak.com
"Drummers that lead groups are quite rare. Here, Paul Wertico leads a trio. Paul Wertico on drums and percussion, John Moulder on guitar and Brian Peters on bass and on track 1 and 16 he plays organ. This rather nicely brings me onto where it was recorded live - as are most Naim CD's. It was recorded in St. Gregory the Great Church in Chicago, Illinois. While Naim often record in churches and chapels this one seems a lot larger. However, the acoustics are excellent and remember - for those reading one of these pieces for the first time - Naim use a technique called True Stereo where everything goes onto two tracks and by clever placement of the microphones there is no editing, in fact virtually a true live performance. There are 16 short tracks with only one track topping 6 minutes - track 3 "Little Creatures" - and two further tracks topping 4 minutes: track 4 "A Slow Stroll Round A Black Hole" and track 15 "Beauty & The Beholder". I suppose it sounds most like a film soundtrack - a very interesting trio sound - certainly the drums do not dominate. In fact, I would be hard pressed to say who was the leader out of the bass and guitar. Reading the sleeve notes make no mention of a film so I must assume that as yet this is a film soundtrack waiting for the film to be made for it. Perhaps my favourite track - probably the most melodic - is track 8 "Stick and Stones".
Louisville Music News
"In addition to his work with Coryell and, previously, Pat Metheny, Paul Wertico is a leader and composer in his own right. He has two recent releases which stray off the beaten path, yet will be rewarding to those who listen with open ears. The Paul Wertico Trio: Another Side (NAIM CD 093; www.thenaimlabel.co.uk) finds Wertico, longtime associate John Moulder on guitar and bassist/organist Brian Peters captured live in August, 2005, in Chicago's St. Gregory the Great Church. The opening "The Big Organ," is a somber prelude which leads into "Children of the Night," replete with spectral overtones. There are several percussion interludes throughout the album, which are not only intrinsically interesting, but often serve as bridges from one piece to the next. On the surface, this is a "guitar trio" CD, yet it is really more of a journey through atmospheres and musical evocations. The other new recording, Ampersand (Rat Howl RH0001), is credited to Brian Peters and Paul Wertico. It is, in a broad way of speaking, more like Another Side than any of Wertico's work with Coryell or Metheny. It is currently available through the websites of the artists, www.paulwertico.com and www.brianpeters.net. It, too, is full of atmospheric explorations, often more in the nature of ambient music. The "liner notes" available on Peters' website are lengthy and provide much insight into the artist as well as his creation. If you expect and desire "jazz" or "fusion," you might best be advised to look elsewhere. If, however, such terms imply pigeonholes to you and you seek to explore innovative, label-less music, check out these recordings from Wertico and company."
HiFi.NL (Netherlands)
"Verreweg de meeste jazz liefhebbers zullen Paul Wertico kennen als de man die in 1983 Danny Gottlieb opvolgde als drummer van de Pat Metheney Group. Met de band van de legendarische jazz gitarist behaalde hij maar liefst zeven Grammy Awards terwijl hij daarnaast o.a. ook nog betrokken was bij Pat's imponerende soloproject Secret Story. Deze in 1997 door de lezers van DRUM! Magazine tot 'Fusion Drummer Of The Year' verkozen slagwerker heeft echter veel meer wapenfeiten op zijn naam staan. Ook in de jaren dat hij met Metheney samenwerkte had hij eigen projecten met o.a. New Age pionier Paul Winter, jazz zanger Kurt Elling en rock-fusion violist Jerry Goodman. Zijn eerste schijf als leider - waarop echtgenote Barbara Unger (keyboards) een van de prominente gasten was - bracht hij uit in 1993. Van zijn andere combo's is het Paul Wertico Trio wellicht nog het meest interessant. Al was het alleen maar vanwege de manier waarop dit trio, dat tegenwoordig naast Paul Wertico bestaat uit gitarist John Moulder en bassist/organist Brian Peters, als het ware de fusion nieuw leven ingeblazen heeft. De eerste albums, waarop bassist Eric Hochberg nog te horen is, laten een energieke, vitale poliritmische complexiteit horen met een intens, uitdagend, opwindend, agressief en vernieuwend spelend trio dat op zijn best is wanneer het vol gas geeft. Met de titel van de nieuwe schijf, Another Side, wil Paul Wertico aangeven dat hij als drummer ook nog een andere kant kan laten horen. Sterk afwijkend van de avant-garde jazz en rock die het spel van het trio op de eerdere schijven kenmerkt is hier een meer getemperde versie te horen. Geen drijvende drummer die de schijf domineert op een wijze die uiteindelijk voornamelijk interessant is voor collega drummers, maar een slagwerker / percussionist die de gitarist en bassist ondersteunt in het gezamenlijk creeren van spontane, melodieuze eigen composities. Uiteraard wordt de rust en sereniteit incidenteel doorbroken met korte drum en percussie exercities maar deze liggen fraai op een lijn met de solo partijen van de beide andere heren en krijgen nergens een extreem karakter. Ook de opname wijkt af van de voorgaande. Ditmaal geen multi-track, meervoudig gelaagde, over een periode van maanden gemixte studio-opname uitgebracht door een grote platenmaatschappij. In plaats daarvan een gedurende een tweedaagse sessie in de St. Gregory the Great Church in Chicago Illinois live to two-track gemaakte opname, uitgebracht op het Engelse audiofiele Naim label. De natuurlijke opname en de prachtige akoestiek van de opnameruimte laten op fraaie wijze de muziek en de klank van de instrumenten tot uitdrukking komen."
JazzFlits.NL (Netherlands)
"Drummer Paul Wertico kent meer dan een gezicht. Voor velen misschien het meest bekende dat als voormalig drummer van de Pat Metheny Group. Maar onder eigen naam zijn het de trio'swaarmee Wertico naam maakt. De cd'sin triobezetting (Don't Be Scared Anymore (2000) en Live In Warsaw! (1998)) kregen het label avant-garde jazz, fusion of jazzrock. Zijn nieuwste werk Another Side is van een ander kaliber. Hier bespeelt het trio, met naast Wertico op drums Brian Peters op bas en orgel en John Moulder op elek- trische gitaar, een meer bescheiden pallet van muzika- le experimenten. Want daarin laat Wertico geen mis- verstand bestaan, hij zal niet snel de bekende paden bewandelen en altijd op zoek zijn naar nieuwe wegen. Een tweede opmerkelijk feit is dat de platen van Wer- tico, evenals Another Side, geen platen zijn waarin hij nummer na nummer zijn vaardigheden als drummer tentoonspreidt. Dat Wertico een uitermate vaardig en virtuoos drummer is behoeft geen betoog. Misschien dat het daarom des te meer te prijzen is dat hij op Another Side nadrukkelijk de rol van bandlid (en componist) op zich neemt en zijn partners ruimschoots laat excelleren. Op slechts drie van de zestien num- mers wordt uitsluitend door hem gespeeld, met overi- gens boeiende percussiepatronen. De cd is live opge- nomen, dat wil zeggen zonder mixof bewerkingen achteraf. Another Side is geen makkelijke plaat maar een die door herhaald luisteren meer en meer biedt."
To Order CD, CD Quality, MP3 320, Hi Definition, and Super Hi Definition file