Welcome to PaulWertico.com!
Recording Reviews:
Brian Peters & Paul Wertico - Ampersand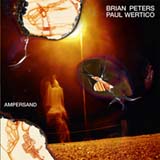 Drummerszone.com
Drummer and percussionist extraordinaire Paul Wertico recruited multi-instrumentalist Brian Peters for his own Paul Wertico Trio as a bass player in 2003. For this release the situation was reversed: Brian Peters wrote all songs, played all instruments (except the drum kit), and asked Wertico to participate. All tracks were recorded between August 2002 and December 2006 in Peter's basement, except for the drums, which Wertico recorded at 'Rat Howl Ricordings' (his basement) on December 20, 2005. Ampersand, the character representing the word 'and' (&), is a well-chosen title, because this album is all about the musical interaction between Peters and Wertico, with no regards for stylistic boundaries, intriguing as a soundtrack for a film you haven't seen. Paul Wertico is a world-class, all-around drummer and his play on this release is a stunning example of feel, time, dynamics, and musicality. Previously he reveiled his philosophy of drumming on his instructional videos Fine Tuning Your Performance and Paul Wertico's Drum Philosophy. The main parts include taking chances, being spontaneous, and recognizing the importance of every musical moment. On Ampersand it seems that Wertico's philosophy has influenced Brian Peters in a good way as both excel in creating adventurous, creative and alluring music. Simply a musical masterpiece.
CD Baby
Editor's picks in both "Jazz Fusion" and "Progressive Rock" categories!
7 time Grammy winner Paul Wertico teams up with multi-instrumentalist Brian Peters to create one of the most ambitious records ever released. The spirit of instrumental rock from the 1960s meets the sounds of today.
Louisville Music News
In addition to his work with Coryell and, previously, Pat Metheny, Paul Wertico is a leader and composer in his own right. He has two recent releases which stray off the beaten path, yet will be rewarding to those who listen with open ears. The Paul Wertico Trio: Another Side (NAIM CD 093; www.thenaimlabel.co.uk) finds Wertico, longtime associate John Moulder on guitar and bassist/organist Brian Peters captured live in August, 2005, in Chicago's St. Gregory the Great Church. The opening "The Big Organ," is a somber prelude which leads into "Children of the Night," replete with spectral overtones. There are several percussion interludes throughout the album, which are not only intrinsically interesting, but often serve as bridges from one piece to the next. On the surface, this is a "guitar trio" CD, yet it is really more of a journey through atmospheres and musical evocations. The other new recording, Ampersand (Rat Howl RH0001), is credited to Brian Peters and Paul Wertico. It is, in a broad way of speaking, more like Another Side than any of Wertico's work with Coryell or Metheny. It is currently available through the websites of the artists, www.paulwertico.com and www.brianpeters.net. It, too, is full of atmospheric explorations, often more in the nature of ambient music. The "liner notes" available on Peters' website are lengthy and provide much insight into the artist as well as his creation. If you expect and desire "jazz" or "fusion," you might best be advised to look elsewhere. If, however, such terms imply pigeonholes to you and you seek to explore innovative, label-less music, check out these recordings from Wertico and company.