Welcome to PaulWertico.com!
Chicago Tribune | CHICAGOANS OF THE YEAR
In 2004, Chicago watched as a dusty railyard was finally transformed into the glistening, cultural spectacle known as Millennium Park. Musicians spread their sounds across boundaries and borders -- and came back to Chicago to hang their hats. Stages throughout the city bore the spectacular weight of world-class talent. For the 20th year, Chicago Tribune critics have selected as Chicagoans of the year the artists, entertainers and administrators who have had an impact in our city and on the national scene.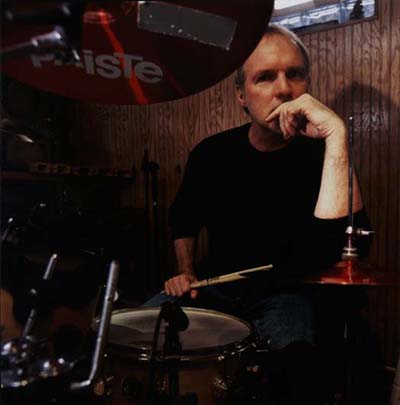 CHICAGOANS OF THE YEAR - JAZZ
Paul Wertico: 'Master of drumming insanity'
By Howard Reich
Tribune arts critic
Published December 26, 2004
Last spring, when veteran Chicago drummer Paul Wertico released "StereoNucleosis" (on the A440 label), it was clear he had achieved an artistic breakthrough.
Despite the strength of his earlier releases, most notably 2000's "Don't Be Scared Anymore," Wertico's land-mark CD pointed to a drummer who sounded dramatically more daring, creative and self-assured than ever.
"StereoNucleosis," it turns out, was a bellwether for Wertico's year and a symbol of his blossoming as a solo artist. For in 2004, Wertico fully stepped out of the shadow of guitarist Pat Metheny, whose band Wertico left in 2001, after a roughly two-decade stint.
The genre-defying performances that defined both "StereoNucleosis" and a long list of nightclub and concert dates proved that Wertico no longer was simply keeping time for somebody else.
"This was the year when everything broke," says Wertico. "I got to make music in all these different genres, and that just let me be me."
The sheer stylistic breadth of Wertico's work in 2004 must have left many other drummer-percussionists panting to keep up. On "StereoNucleosis" alone, Wertico and his band ventured into other-worldly sonic effects, flamenco-inspired scales, raw blues exhortations and out-and-out noise (albeit cleverly managed noise).
That Wertico recorded, mixed and engineered the CD entirely in his suburban Chicago home -- with the help of a computer-savvy young musician named Brian Peters -- underscored his efforts to take maximum control of his art.
Not surprisingly, reviews of "StereoNucleosis" were intense.
"A master of drumming insanity," noted Modern Drummer.
"This is where he is most himself: eclectic, powerful, stylistically fearless and original," observed jazzreview.com.
Indeed, "StereoNucleosis" simply captured on CD what Wertico was demonstrating in clubs and concert halls around the world: the enormous range of his musical interests.
How many jazz drummers, after all, can lay claim to holding a chair in one of Eastern Europe's more revered rock bands? Though Wertico picked up the sticks in SBB from veteran drummer Jerzy Piotrowski in 2000, it was in 2004 that critics, bloggers and audiences began to embrace his distinctly free-form, quasi-Impressionistic contributions.
"When I got the SBB gig, I did get this comparison to the previous drummer," acknowledges Wertico. "So I didn't feel quite accepted."
"But this year everyone flipped out. All the e-mails said, 'We can't picture the band without Paul now.' "
Certainly Wertico's performances in Chicago this year helped explain the excitement. In January, he presided over a Chicago Percussion All-Stars session at Northwestern's Pick-Staiger Concert Hall, collaborating with Brazilian master Dede Sampaio, the Indian tabla virtuoso Kalyan Pathak and the Chicago avant-gardist Famoudou Don Moye, eloquently speaking each percussionist's language.
Considering that in 2004 he also recorded with jazz guitarist Larry Coryell, Hebraic cantors Alberto Mizrahi and Jeffrey Klepper, Greek composer Lefteris Christofis, Irish concertina master Liam O'Connor, Spanish keyboardist Julio Awad and many more, Wertico appears to have tapped a deep well of sound within.
"As an artist, it's sometimes hard to present your best side, because you're always second-guessing yourself," says Wertico.
"So when you finally accept yourself, you can just relax and play. And I think that's what happened this year."
Images and Information from Chicago Tribune, Sunday, December 26, 2004, Section 7, Arts & Entertainment, pages 1 & 14 (Photo by Nancy Stone)
You are here: Home > Interviews > Chicago Tribune - Chicagoans of the Year - December 26, 2004