Welcome to PaulWertico.com!
Real World Digital Audio
Industrial-Strength Production Techniques
By Peter Kirn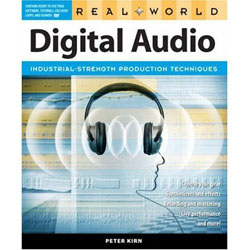 The complete Table of Contents for the book, with notes on why the chapters are there and what they include.
Introduction
Chapter 1: Understanding Digital Sound
How Sound Works
Sound and Perception
Sound in Digital Form
Chapter 2: Choosing Your Tools
Inputs and Outputs
Choosing the Right Computer
Music and Sound Production Tools
Going Shopping
Chapter 3: Setting Up Your Equipment
Setting Up Your Workspace
Connecting Physical Hardware
Chapter 4: Preparing Your Computer for Audio
Connecting Your Virtual Studio
Maintaining Your Virtual Studio
Chapter 5: Quick Songs with Patterns and Loops
Patterns and Loops
Create a Backing Track (GarageBand)
Tutorial 1: Start a Song and Choose Loops
Tutorial 2: Create a Basic Arrangement
Tutorial 3: Develop a Song Structure
Tutorial 4: Mix and Record
Make a Groove Box (Kinetic)
Tutorial 1: Patches, Patterns, and Grooves
Tutorial 2: Build Up a Set of Grooves
Tutorial 3: Ready for the Dance Floor
Author's note: This chapter departs from the rest of the book to serve as a simple, step-by-step starting point for beginners. Using Kinetic on Windows (demo included on the DVD) or GarageBand on Mac (included with iLife and on new Macs), you can walk through these step-by-step as an introduction to some of the production techniques later in the book.
Chapter 6: Recording Instruments and Sound
Microphone Characteristics
Recording Applications
Digital Recording
Author's note: This chapter answers the frequently asked question, "which mic do I use?", for a variety of different applications. (We even get to cover how to record harmonicas.) I got two big windfalls on this chapter: I was lucky enough to get seven-time Grammy-winning dummer Paul Wertico to share the setup in his studio, and illustrator/designer Tova Friedman to illustrate mic placement.
Chapter 7: Processing and Effects
Basics of Signal Processors
Equalization
Dynamics Processors
Time-Related Effects
Specialized Processors
Chapter 8: MIDI: Notes, Rhythms, and Physical Control
Ins, Outs, and Thrus of MIDI
How MIDI Models Performances
Recording Performances
Editing and Manipulating Performances
Chapter 9: Synthesis and Software Instruments
Basic Types of Synthesis
Samplers and Sample Playback
Synthesis Building Blocks: Virtual Analog Techniques
Modulation and Effects
Author's note: Thanks to Native Instruments, you can follow along in this chapter with a free synth included on the DVD, SoundSchool Analog from Reaktor 5. Reading about making sounds makes a whole lot more sense when you can hear what you're doing.
Chapter 10: Put It Together: Arrange, Mix, and Master
Arranging
Mixing
Mixdown, Mastering, and Sharing
Chapter 11: Producing Printed Scores
What Notation Software Does
Getting Started with a Score
Print, Play, and Share Your Score
Chapter 12: Music and Sound for Video
Synchronization, Tools, and Formats
Music for Video
Recording for Video
Chapter 13: Playing Live
Digital Audio Onstage
Live Arranging and Clips
DJing and the Live Remix
Custom Performance Software
Appendix: What's on the DVD
Tools and Extras
Soundware
(See what's on the DVD for a complete listing)